What is a DSP?
What is a DSP?
A DSP is more formally known as a Direct Support Professional.
DSPs work with people with disabilities to help them increase their independence and participate in the community.
What is a typical day like for a DSP?
If you are interested in becoming a DSP, you'll have lots of options. Some DSPs help people with disabilities get jobs. Others focus on transportation or taking people out in the community. Others work in homes, helping with household tasks.
Other examples of things you might do:
Assist people with cooking, cleaning or personal care.
Teach people new skills and encourage them to try new things.
Help individuals connect with friends and activities in the community.
Provide transportation to work or social events.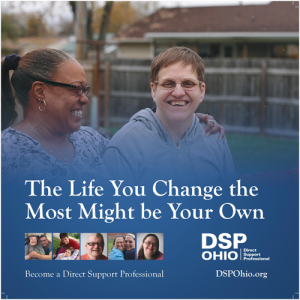 Visit dspcareers.com for more information
What are the requirements to be a DSP?
Have or be willing to pursue a high school diploma or GED.
Be at least 18 or older.
Have or be willing to pursue a valid driver's license, car insurance and a vehicle.
Pass a background check and drug screening.
Local employers are hiring DSPs for a variety of shifts, including full time, part time, evenings and weekends. This profession is a great fit for those caring for family members, taking GED or college classes or looking for an entry-level job that will lead to a longtime career.
Are there opportunities for advancement?
Working as a DSP in the developmental disabilities field can provide a lot of opportunities to advance and learn new skills.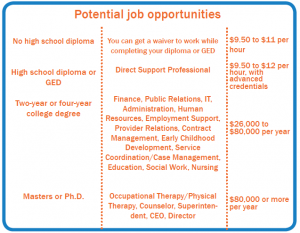 DSP's who participate in continuing education can be eligible for pay raises. The Licking County Board of DD, as well as other state and local agencies provide options to participate in trainings and courses.
With experience, DSPs have the opportunity to become managers, program coordinators or administrators.
How can I apply?
It is easy for Licking County residents to apply to work as a DSP. One option is to go to dspcareers.com and get connected with DSP Employment Connections — a new program to support provider agencies in Licking County by offering to perform initial screenings DSP applicants for employment eligibility.
This should not be construed as an application for employment at LCBDD. LCBDD's role is limited to screening interested applicants for employment eligibility purposes on behalf of participating provider agencies.
To find out more, contact Brandi Body at 740-644-0344 or Brandi.Body@lcountydd.org.