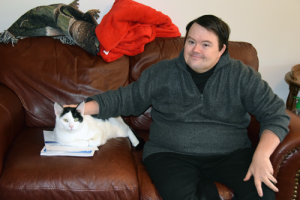 Please be aware: The Licking County Board of Developmental Disabilities does NOT provide housing. We work to coordinate residential options for people with developmental disabilities in Licking County.
We believe every person with a disability has the right to safe, desirable housing. But the first step to finding it is to understand your needs, options when it comes to places you might live and the responsibilities that go along with each possibility.
LCBDD will not tell you what to do. But the county board is here to help you, as you work with your support network to find the best fit.
Our goal is to share information about as many housing options as possible so our entire community has access to a variety of living situations.
We work closely with some of our community's housing corporations, such as the Licking County Coalition For Housing, Center for Disability Services, and Summit Housing. We also help to coordinate home modifications as needed.
Housing options for people with developmental disabilities have changed a lot over the years and there are still some misconceptions out there. Click here to learn about some of these common misconceptions.
Whether you want to:
    -Live alone
    -Live with family, friends or a significant other
    -Live with a roommate or several roommates
You will be able to access services and supports with any of these options. 
Now that you've decided where you want to live: