A Transition Youth Service Coordinator (SC) will work with you from your 13th birthday until you turn 22. They can help you and your family navigate your middle and high school years, prepare for life after graduation and provide support while you transition to life as a young adult.
Your SC is responsible for writing your Individual Service Plan (or ISP). This document evolves throughout your life and serves as a roadmap for the services and supports you need to reach your goals. You and your family will meet to discuss this document at least once a year.
In addition, Transition Youth Service Coordinators work closely with LCBDD's Transition Support department and will attend meetings alongside your Transition Support Specialist. Click here to learn more about Transition Support Specialists.
Transition Youth SCs can help you decide on what is important to you and for you. They can also help with: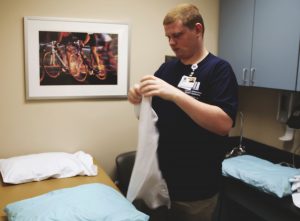 FSS requests- Family Support Services (FSS) is a program to help offset the cost of services and supplies. If you or your family have a question about what it can be used for, Click here to visit our FSS page.
Communication and learning

Making referrals for speech therapy, communication devices and learning devices.
Connecting with information about assistive technology or a tech lending library. Click here to visit our assistive technology page.
Attending your Individualized Education Plan/Evaluation Team Report meetings.

Community involvement

Connecting you with local clubs and groups that match your interests.
Sharing information on transportation options to help you participate in these activities.

Daily life

Determining your daily needs and coordinate services to meet them.
Helping you find support in the community to meet your needs.

Finances
Getting around

Helping identify mobility needs.
Sharing information on options to access home modifications and adaptive equipment.

Health and wellness
Housing

Talking about your current and future housing plans.
Connecting you with resources for housing in the community.

Relationships

Talking about the people who are important in your life.
Helping you learn about supported decision making.
Providing information about adult guardianship.
Learn about Ohio Rise
For more information on Ohio Rise and the services it can provide to eligible families, click this link: https://managedcare.medicaid.ohio.gov/managed-care/ohiorise.
Can I get a waiver?
Ohio has implemented an assessment to determine waiver eligibility. Your SC can coordinate getting the assessment completed with you and your family. For more information, click here to visit our waiver page.
Can I get Medicaid or SSI?
Medicaid and SSI are income-based programs, so not everyone will qualify. If you and your family want to find out if you qualify you can apply at the Department of Job and Family Services for Medicaid and the Social Security office for Supplemental Security Income (SSI). Your SC can assist you in the application process.
Safety Concerns
If you are concerned that a person with developmental disabilities is being abused or neglected, please contact us at 740-349-6588. If it is after regular business hours, please call 740-345-4357 (211 if local) and ask for the Licking County Board of DD on-call service coordinator.