What is Project SEARCH?
The Project SEARCH high school transition program is designed to give young people with disabilities the training and soft skills they need to transition from school to adult life. Project SEARCH is a unique one-year, business-led, high school transition program hosted by Licking Memorial Health Systems (LMHS). The cornerstone of Project SEARCH is total immersion in the Licking Memorial Health Systems environment.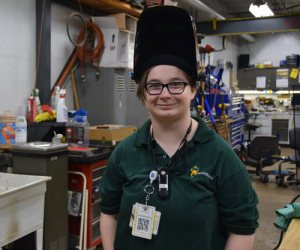 Led by an instructor (including job coaches/directors/ managers within LMHS departments), the students receive a combination of classroom instruction, career exploration and on-the-job training. Students work on employability and functional skills in a classroom setting, but the majority of their time is spent completing three unique internship rotations in a variety of clinical and technological areas of the health systems. Examples of internship areas include:
Engineering: Where participants work alongside LMHS staff to assist with maintenance on the vehicles and building.
Surgery/Sterile Processing: Where participants work alongside LMHS staff to prepare surgical tools for sterilization and surgery procedures.
Culinary: Where participants work alongside LMHS Staff to assist with food prep, stocking and activities in the dish room.
The long-term goal of Project SEARCH is to provide a set of transferable skills to people with disabilities, which will result in a diverse group of motivated job seekers for employers throughout Licking County. At the completion of the program, students will be prepared for competitive employment and have assistance obtaining complex and rewarding jobs.
Who is eligible to participate?
Project SEARCH LMHS is open to all students who have met the following criteria:
They are enrolled in a Licking County high school (The student MUST be enrolled in their home district during their senior year of school.)
They are on an IEP and have a disability that is seen as a barrier to obtaining full-time employment after graduation.
They are 18 years or older by Aug. 1 of the starting year of the internship, or will not turn 22 by the end of the internship year.
They have completed all requirements to graduate high school, but have not yet accepted their diploma.
They  are drug & tobacco free. 
What is the application process?
Interested students are invited to attend an informational meeting to learn more about the program for the following year. Please see the "How can I learn more" section below if you would like more details about when the informational meetings will be held.
Interested students and families should talk to their school district about participating in the program. They will be asked to submit an application.
A selection committee will review the applications and arrange candidate interviews and skills assessments.
If accepted, a student's IEP team will meet to develop a new IEP for the upcoming school year.
If accepted, the student must be able to pass a criminal background check, drug screening and TB test, and show documentation of current immunizations (these will be done following confirmation of acceptance into the program. It is NOT needed to complete the application process.)
How much does it cost?
As students who participate in Project SEARCH will complete the program before earning their high school diplomas, interns are not paid. The program is free to students. LMHS will provide uniforms to all of the students, as well as transportation, via Licking County Transit, for those who need it. The Licking County Foundation will reimburse each student for their footwear.
How can I learn more?
Information about Project SEARCH and its history can be found at projectsearch.us.
If you are a student, parent, or business owner who wants to learn more about our local Project SEARCH program, please contact:
Angie Finck, Director of Provider & Transition Supports at the Licking County Board of Developmental Disabilities via email Angela.Finck@lcountydd.org or by phone at 740-349-6588.
Christi Brock, MD Supervisor at the Licking County Educational Service Center via email cbrock@laca.org or by phone at 740-349-6103.
What is the role of the Licking County Board of Developmental Disabilities (LCBDD) in Project SEARCH?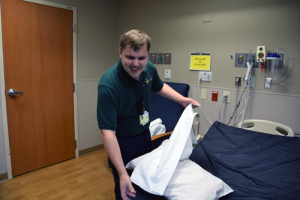 LCBDD has Transition Specialists who work with teens and adults to connect them with the resources they need to pursue their future goals. For some young people, Project SEARCH is a great option to get training and hands-on experience. To learn more about our transition specialists, please visit our Transition Support page. 
LCBDD Transition Specialists work alongside Transition Youth Service Coordinators to help recruit high school students who would be a good fit for the program. Once a student completes the program and finds a job, LCBDD funds extended follow-along service, provided by a local provider, to make sure the student has the skills and resources they need to be successful. If you would like to know more about Transition Youth Service Coordinators, please visit our Transition Youth Service Coordination page. 
Project SEARCH newsroom:
Project SEARCH partners include:
Licking Memorial Health Systems
The Licking County Board of Developmental Disabilities
The Licking County Educational Service Center
Opportunities for Ohioans with Disabilities
Greenleaf Job Training Services
Granville Exempted Village Schools
Heath City Schools
Johnstown Monroe Local Schools
Lakewood Local Schools
Licking Heights Local Schools
Licking Valley Local Schools
Newark City Schools
North Fork Local Schools
Northridge Local Schools
Southwest Licking Local Schools
Big Walnut Local Schools
New Albany Local Schools
Reynoldsburg Local Schools