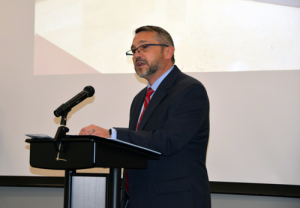 Our staff members are always willing to share their expertise and community members are encouraged to contact us with questions or requests for resources.
We enjoy getting out in the community and you'll likely find us at a variety of community events including the Hartford Independent Fair, health fairs, career fairs and other events that allow us to talk to residents and get the word out about our services and supports.
We are also happy to provide training to a variety of age groups and organizations. Over the last few years, we've been fortunate to speak to a variety of groups including:
Kiwanis and Rotary Clubs
The Licking County Chamber of Commerce
Local schools
The Licking County Aging Program
Local law enforcement agencies
Local Scouting groups
Licking County 4-H Camp Counselors
Parenting classes
Trainings organized by Licking County Job and Family Services
We have presented on a variety of topics including:
Diversity and Inclusion
People First Language
What should employers know about hiring someone with a developmental disability?
Communicating with people with disabilities
How LCBDD works with Opportunities for Ohioans with Disabilities
Communicating with those on the autism spectrum
Housing/future planning/transportation
Child development
Careers in the DD field
The Americans with Disabilities Act.
If there's something you don't see on this list, don't worry, we will make it happen! Contact Anna Jeffries at 740-322-6911 or anna.jeffries@lcountydd.org to learn more or discuss scheduling.