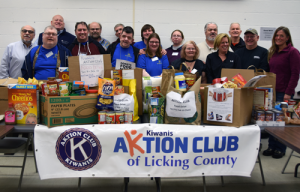 Aktion Club is a Service Leadership Program of Kiwanis International, a global organization of volunteers dedicated to changing the world one child and one community at a time. Kiwanis clubs sponsor Aktion Clubs. Aktion Club is the only service club for adults with disabilities, with more than 12,000 members worldwide. Aktion Clubs draw members from various organizations that support individuals with disabilities, as well as other community programs.  Aktion Club is supported at the district level and by the Kiwanis International Office in Indianapolis, Indiana, which provides programs, literature and opportunities to relate to individuals with disabilities from countries worldwide.
To learn more about Aktion Club motto, vision, mission, and core values visit their website by clicking here.
How do members benefit?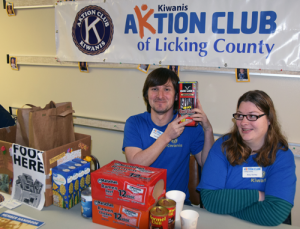 Aktion Club provides an opportunity to build leadership and decision-making skills, as well as hold leadership roles in the club.Members experience meaningful community-service activities. They learn by doing. They learn organization, teamwork and leadership. But the most important lesson they learn is that individuals working together can and do make a difference to the world around them.
What can an Aktion Club do?
Whether the club is involved in a small project at a community site or is working with a Kiwanis club, Key Club or CKI club on a larger project, Aktion Clubs can make their presence known. Some Aktion Clubs:
Conduct fundraisers such as car washes, paper drives and recycling projects to raise money for needs in the community.
Perform community services, such as environmental projects, park beautification, food drives or nursing home visitations.
Organize canned food drives to support local shelters.
Make cards for sick children in the hospital.
Assist Kiwanis clubs, CKI and Key Clubs with their service initiatives.
What can I expect from meetings?
Aktion Club meetings are conducted once a month and last about an hour and a half.  A meeting may include business discussions, informative or educational programs, entertainment, and refreshments.
How can I join Aktion Club?
Aktion Club is open to any adult, age 18 years or older who has a disability and is interested in performing community service and having fun. While the Aktion Club is open (officially) to people 18 and older, younger people may attend. However, they will not be listed as official members until age18. Member dues are $8 per member each year Every Aktion Club annually elects its own officers and organizes its members into committees.
If you would like to join Aktion Club Licking County, please contact David McManus at 740-349-6588.You can also visit their Facebook page by clicking here.
2023 Aktion Club Licking County Meeting Schedule
Kiwanis Aktion Club meets the 2nd Tuesday of each month at 5:45 p.m. at the LCBDD E.S. Weiant Center located at 116 N. 22nd Street, Newark, OH 43055.