Local students are spending the summer exploring different career options.
A Watkins Memorial High School junior, Nicole Waters is interested in getting a job as a cashier.
So gaining experience at Giant Eagle in Heath — cleaning and stocking shelves this summer — was a great fit for her.
Nicole is one of about 40  teens and young adults supported by the Licking County Board of Developmental Disabilities participating in work experiences and career exploration this summer through Opportunities for Ohioans with Disabilities.
The programs are designed to help youth think about employment, and the kind of jobs they might enjoy, long before they graduate from high school, said Holly Shellogg, director of Employment Supports at LCBDD.
Research shows if young people participate in work experiences or career exploration before graduating from high school, they have a greater chance of obtaining a competitive job or enrolling in post-secondary education or vocational training, Holly said.
During the school year, LCBDD employment support specialists worked to connect teens who were interested in a summer experience with Opportunities for Ohioans with Disabilities. Counselors from the agency provided their families with the option to choose a provider.
This year, New Hope Industries, Greenleaf Job Training Services, Licking/Knox Goodwill Industries, Behavioral Healthcare Partners of Central Ohio and the Fuse Network offered career exploration and work experience.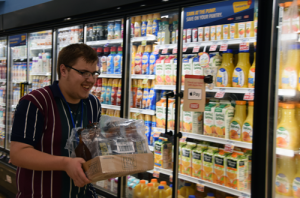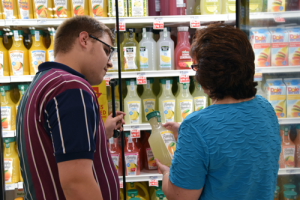 Some of the teens also had the opportunity to participate in the College Aspire program at Central Ohio Technical College at the beginning of June.
A group of 12 students signed up for the Career Exploration program offered by New Hope Industries.
They spent the first week of the program in the classroom learning and practicing job readiness and communication skills.
T
he next two weeks, students had the chance to tour a variety of local businesses, including Rural King,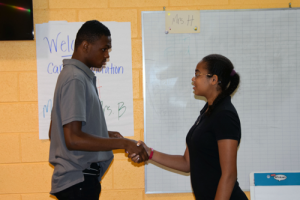 the Indian Mound Mall, the Licking County Family YMCA,  McDonalds, the Midland Theatre and the Granville Inn.
"For some of our students, this is the first time they have thought about work," said Tyra Brown, New Hope's Career Exploration program coordinator
The goal is, by the end of the three weeks, that students have identified an industry they are interested in learning more about, such as food service or hospitality, Tyra said.
The next step is for students to choose a work experience next summer, so they can determine if their chosen field is the right fit.
Ryan Hunter, a soon-to-be senior at Granville High School, chose to spend last summer working at Broadway Kennels in Pataskala. This year, with support from Greenleaf, he said he's enjoyed working at Giant Eagle cleaning and stocking shelves.
An animal lover, he's realized his ultimate goal is to work at a kennel or have another job with animals.
For more information about the supports that LCBDD provides to transition youth, go to lcountydd.org/what-is-employment-supports.