Four local athletes will compete in Seattle in early July.
Licking County will be well represented in this year's Special Olympics USA Games.
Two athletes from the Licking County Special Olympics team and two from the West Licking Special Olympics team will join the rest of Team Ohio for six days of elite competition in Seattle, Washington.
Held every four years, the USA games started in 2006. This year, more than 4,000 athletes from around the United States will compete in 14 sports, cheered on by more than 70,000 spectators.
For all four local athletes, this is their first time competing at such a high level. The Licking County Board of Developmental Disabilities spent time getting to know each athlete to share their stories with you.
Power lifting
Both members of Licking County Special Olympics, Ali Riddick and Garrett Ford were selected for Team Ohio because they both consistently perform at a high level.
Both took home gold medals in their divisions at the 2017 Ohio State games and have been the top competitors at states for several years, said their coach John Wysocki.
Since they found out they were bound for Seattle, Licking County Special Olympics has been raising funds to help them and their families get to the West Coast. Numerous civic organizations and local businesses have donated and the team hosted a power lifting competition to raise additional funds.
Wysocki said he's excited to see both athletes have the chance to take it to the next level and to compete against athletes from other states.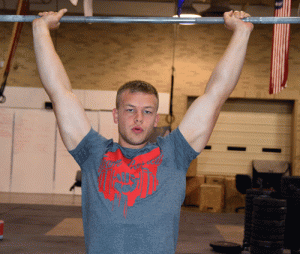 Garrett Ford
In the months leading up to the Seattle games, Garrett has been all about improving his technique.
He's been working out with Coach Wysocki and has been lifting at the Old School Gym. His goal is to lift 525 pounds in his dead lift and at least 315 pounds in his bench press.
"I want to set more records and get as big as I can," he said.
After finding out he was going to Seattle, Garrett wrote a letter to Amazon, sharing some information about the competition. In February, he was invited to tour their Pataskala facility and was given a large donation.
He is hoping to tour their Seattle headquarters when he travels to the games.
As he prepares for the Games, Garrett, of Pataskala, keeps busy at his job at Rural King, where he often has to use his strength to load heavy items.
While he's lifting in Seattle, he will have a group of eight family members cheering him on, which will help him stay focused.
"I'm very excited but I'm nervous about traveling," he said.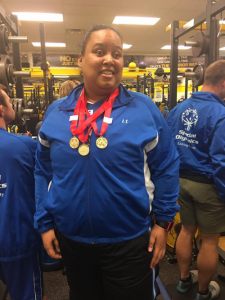 Ali Riddick
Ali Riddick began power lifting at a free bi-monthly class at CrossFit Newark.
After bringing home medals in power lifting and bench press at the state Special Olympic games, Ali was surprised and excited to be chosen to represent Team Ohio.
To prepare, she's been working out once a week and attending CrossFit classes in Newark.
"My goal is to achieve a new personal best in the bench press and dead lift," she said. "I am looking forward to competing with female athletes from across the United States."
When she isn't power lifting, Ali attends Columbus State Community College through the PALS program where she's majoring in sport and exercise science. She enjoys swimming, reading and watching movies.
Track
Ian Bussey
When he found out he had qualified to run in Seattle, Ian Bussey knew he had a challenge in front of him.
"But I said, 'I'll do it because I want to do good,'" he said. "For me it's a big honor and I really want to do my best because this might not happen again."
Since then he's been training daily — whether he's working out at the gym or outside on the trail to improve his speed. He's also started doing CrossFit to increase his strength.
In Seattle, he'll be running the 200 meter dash and 100 meter dash and anchoring the 4 by 100 relay.
"It's exciting but I'm also nervous at that same time because I don't know how the runners I'll be competing against are," he said.
Ian is a member of the West Licking Warriors Special Olympics team and he's gotten donations from several local businesses to help support his trip.
When he's not running, Ian, of Newark, works at the Moo Moo Car Wash in Heath and is an avid storm chaser.
He's taken more than 12 hours of storm spotter training and his vehicle is equipped with safety gear and a weather station to monitor storm conditions. He's trained to alert the National Weather Service  of what he's seeing on the ground.
Ian has taken storm chasing trips to Missouri and is interested in experiencing the weather in Seattle.
He plans to dedicate his races to his support system.
"I'm not only doing it for me, but for my parents and my girlfriend," he said.
Tennis
Bryce Hartley
About five years ago, Bryce Hartley decided he was ready to switch from track to a different sport and picked up a tennis racket.
Since then, the self-described "natural athlete" has only lost one match.
Now he's getting ready to compete at the Seattle games.
A member of the West Licking Warriors Special Olympics team, he's been practicing several times a week and exercising more to stay in shape.
When he's not working on his tennis game, he works for the landscaping company Detail Dedicated and is preparing for his 2019 wedding.
July will be the first time he's every traveled to Seattle.
"Just to win, that's my goal," he said.