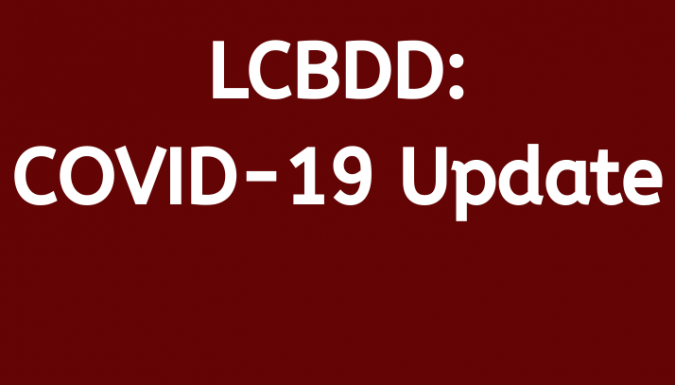 Updated: 9 p.m. March 20, 2020
For information about COVID-19 related closures, visit our Closures page.
Community resources page: We are compiling an ongoing list of resources that could be helpful during this time. Click here.
LCBDD COVID-19 Response Update
E.S. Weiant Center to close to visitors but operations continue
The Licking County Board of Developmental Disabilities is monitoring guidance from the Ohio Department of Health and the Licking County Health Department about COVID-19 (also known as the coronavirus).
Although this is a challenging situation, our agency is committed to providing quality services and supports, while putting reasonable measures in place to keep the people we support and our staff safe.
Our agency has established a Continuity of Operations plan and our Leadership Team is meeting daily to respond to new information. Please be aware that aspects of this plan will likely change. We will continue to update our community in this rapidly evolving situation.
Operations:
Unless otherwise mandated, LCBDD will continue to fulfill our commitment to the people we support and conduct board business. However, to protect the safety of our staff and visitors, we have decided to close our building at the end of the business day (4:30 p.m.) on Monday, March 16.  Please understand, this does not mean we are no longer operating. We are still here to support you. Our phones will still be staffed during normal business hours (8 a.m. to 4:30 p.m. Monday-Friday) and emails will be returned. Our on-call service coordinators can continue to be reached after hours by calling 211, to assist with emergencies. Our website and social media pages will also continue to be updated.
Our staff members who have board-issued mobile devices have been given the option to work from home. But they will continue to perform their work duties during their regularly scheduled hours and will be available to the people we support. Those who do not have board-issued devices will continue to work their regularly scheduled hours in our office. We are moving these staff members throughout the building to ensure proper social distancing.
Meetings and visits:
At the close of business (4:30 p.m.) on Monday, March 16, all face-to-face meetings are suspended. That means all "mission critical" meetings, including ISPs and home visits, will be done using phone conferencing or remote technology.
If you have a meeting scheduled with LCBDD, please expect to hear from your service coordinator or primary service provider about how to proceed. As always, if you have any questions about this, don't hesitate to contact our office at 740-349-6588.
Other, non-critical meetings and trainings will be rescheduled after April 2.
Forms and documents
During this time, we ask that if you have a document or form that needs to be returned to LCBDD, that you mail or email it, rather than dropping it off at the E.S. Weiant Center. This is for your safety as well as the safety of our staff.
Please send items by mail to:
Licking County Board of Developmental Disabilities
116 N. 22nd Street
Newark, Ohio 43055
Please put the name of the LCBDD staff person receiving the document on the envelope
Items sent via email can be directed to your service coordinator.
Office procedures:
Hand sanitizer is available throughout our building for our staff who are not working remotely and they have been asked to use it frequently. Our staff members have been equipped with cleaning supplies and spaces will be wiped down after each use.
Families:
Please note, as our staff members work remotely they may be reaching out on their mobile devices. If you see a call from an "unknown number" it might be our staff member trying to reach you. Please note if our staff members leave a voicemail, they will ask you to call the main LCBDD number (740-349-6588) and our front desk staff will help you get connected.
Please use the resources listed below if you need assistance making the best decisions for you and your family members. If you have a family member in a residential facility, it is important to stay in communication with that facility for information about staffing and visitation. If you have any questions, don't hesitate to contact our office at 740-349-6588.
Providers:
We would like to acknowledge the hard work and dedication of our providers and their willingness to work together during this difficult situation. They are making challenging choices to keep people safe.
We have established a dedicated webpage for providers that will be continuously updated with information. Please visit lcountydd.org/covid-19-for-our-providers/.
LCBDD's Provider Relations department is working with providers and provider agencies to offer support and will be checking in with them on a regular basis.  Our agency has also set aside funds to help offset the costs associated with cleaning and sanitizing supplies for provider agencies.
The Ohio Department of Developmental Disabilities has started a webpage to help families, providers and county board employees stay informed about COVID-19. Check it out for the latest: https://dodd.ohio.gov/…/our-…/resource-dodd-covid-19-support
For additional information regarding COVID-19 please go to: https://www.cdc.gov/coronavirus/2019-nCoV/index.html
The state of Ohio has established a website for resources and information: coronavirus.ohio.gov.
The Ohio Department of Health (ODH) has also opened a call center to answer questions regarding coronavirus (COVID-19). The call center will be open 7 days a week from 9 a.m. to 8 p.m. and can be reached at 1-833-4-ASK-ODH (1-833-427-5634).
The Vermont DD Council has created a guide to COVID-19 that uses simple language. Find it here.
What you need to know about the coronavirus in American Sign Language (from the NYC Mayor's Office for People with Disabilities.)