Ellie O'Donnell showed up with kindness every day at the YMCA day camp.
It's always emotional when another summer ends at the day camp held every year at the Licking County Family YMCA.
Ellie O'Donnell will miss making bracelets, swimming and doing karaoke. But she'll carry the things she's learned there all year round.
Ellie, 18, is going into her junior year at Newark High School and has been a regular at the summer camp for many years. She has been part of the camp's Leader in Training program for the past five.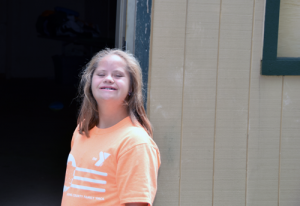 "I like it, I like being helpful," Ellie said. "I love this camp."
The Leader in Training (LIT) program gives some of the Y's older campers the chance to get more involved and take on new responsibilities, said Kat Bowman, LIT director.
LITs have to apply for the program and rotate around to help different counselors — assisting with activities, helping younger campers, doing camp chores and anything else that comes up — throughout the summer.
The program allows the camp's counselors to become mentors and teaches responsibility, communication skills and accountability, Kat said.
Some LITs go on to be camp counselors, but others just appreciate the learning opportunity, she said.
"It not only helps them to be leaders but gives them skills to help them in life," she said.
Ellie, who loves dancing, modeling and crafts, was a huge help in some of the specialty camps, including Beauty Boot Camp and Princess Camp.
She said she loves spending time with little kids, and they look forward to being with her, Kat said.
"She is very kind to everyone she comes across," Kat said. "She always makes a point to say hi to everyone."
Whether she's helping escort another camper to the staff cabin for a band-aid or helping with clean up, Ellie always has a smile, she added.
Ellie described her performance this summer as an LIT as "outstanding."
"This camp, it means the world to me," she said.