Max McDaid is crushing his goals.
Max McDaid has come a long way since he graduated from Project SEARCH three years ago.
He's working full time at the Defense Supply Center in Columbus doing janitorial work. Earning a paycheck for a little over two years, he's made saving money to accomplish his g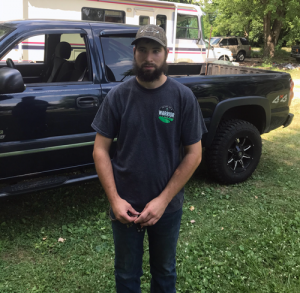 oals a big priority.
"He has been crushing his goals," said his Licking County Board of DD service coordinator Patricia Luning.
He's been able to save enough for a trailer and his own riding mower, and he's very close to paying off the loan he used to purchase it.
He mows for his father Alan as well as for several of his neighbors.
"If he needed to set up his own business, he could almost go into landscaping or mowing," his dad said. "He's almost got all the equipment."
He also helped his dad purchase a new refrigerator.
"If something needs done, he gets it done," Patricia said.
With support from LCBDD, Max, 23, was able to get his driver's license through Capabilities.
He was having trouble finding rides to work, so he and his father found a truck that he could afford, mostly using his savings.
Max enjoys being able to drive himself around and working on the truck, and other cars, in his spare time. He also has been active in Special Olympics basketball.
Max is currently saving up to purchase his own property, where he's hoping to build a house with his dad so they can live there together.
"He's doing a lot more than I was doing at 23,"Alan said. "I just try to keep him down that right path. But he's pretty much doing it on his own."
Patricia said she is looking forward to seeing what Max accomplishes in the future.
"I think the most incredible thing about Max is that he makes a goal and he sticks with it," she said. "He's willing to do the work to accomplish anything he puts his mind to and that's quite incredible."