Congrats to Austin and his sister Siarra for graduating from Licking Valley!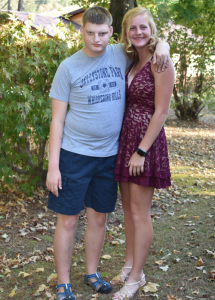 Austin Hoover and his younger sister Siarra have always had a close bond.
The abrupt shift to high school classes being offered virtually has been challenging for both of them in different ways. But one positive is that now, they will both celebrate their high school graduations at the same time.
Although grad party plans are on hold, announcements have been ordered and both students have been "adopted" through Licking Valley's "Adopt a Senior 2020" Facebook page. Receiving candy, cards and balloons has made them both smile, said their mother, Jessica Hoover.
"This has definitely been different, but it will be memorable," Jessica said.
Austin, 19, began receiving Early Intervention at the E.S. Weiant Center after being diagnosed with cri-du-chat syndrome, also known as 5p- syndrome. He and Siarra both attended E.S. Weiant for preschool before spending the rest of their academic careers at Valley.
Spending his entire life in the Valley area, Austin has also been a longtime participant at the All For One summer camp at the Licking County Family YMCA. Between his friends at school and camp and the people he's met accompanying his mother as she coaches track and cross country, he has become extremely well known, Jessica said.
One of his favorite things it to travel to Island Dolphin Care in Key Largo, Florida, where he receives dolphin therapy.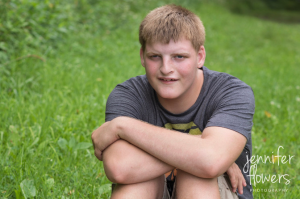 "He loves the dolphins." Jessica said. "He talks about them and asks about them regularly. That is his time and he thoroughly enjoys it."
He also enjoys spending time with his sister, so it was important to her to select a college, Ohio Wesleyan University, that was close enough that they could still visit, Jessica said.
As Siarra made her plans for graduation, the Hoovers were thinking about keeping Austin at the high school one more year so he could begin transitioning to a day program.
But once schools shifted to online learning in response to the coronavirus pandemic, it was clear that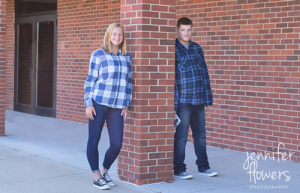 all the uncertainly would make that plan difficult for Austin.
"I truly think (graduating this year) is the best option for him," Jessica said. "This is working out for the best."
Jessica and her husband Dan — who is the president of the Licking County Board of Developmental Disabilities' Board of Directors — were in the process of looking at day programs that would be a good match for Austin before the pandemic and they are hopeful as things begin to open up, they will find a great fit.
For now, they are looking forward to seeing both their children receive their diplomas during Valley's virtual graduation.
Austin struggles in large crowds, so he likely wouldn't have been able to participate in a traditional graduation ceremony, but this format is perfect for him, Jessica said.
"There are a lot of positives," she said. "It's a blessing in disguise because now he will be able to walk across the stage."
Senior photos by Jennifer Flowers Photography.