Michael Lehman's family is celebrating his high school graduation!
Michael Lehman, (pictured here in last fall's Halloween costume) is dressed as Aladdin, one of his favorite Disney characters.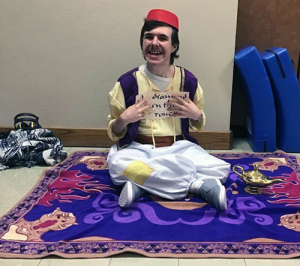 Do not be fooled by his common place appearance. This young man is more than what he seems. His underlying character, goodness, positive qualities and potential will ultimately prevail. Michael is, as the sign he is holding in this picture reads, " A diamond in the rough."
Michael, 19, will be graduating from high school this year.
"It's a great thing, we are excited and very proud of him," his mother Diana said.
Michael has attended Boundless in Newark since his ninth grade year. Over the past few weeks, he has been completing his high school coursework virtually, playing learning games and doing speech and occupational therapy via Zoom.
Michael's journey through school hasn't been easy, but he has met some great people along the way who have helped him, supported him and embraced his interests, Diana said.
Michael, who is on the autism spectrum, first got connected with the Licking County Board of Developmental Disabilities at age 2, when his mother and father, Darryl, expressed concerns about Michael not talking.
He began receiving Early Intervention services while attending the E.S. Weiant Center's preschool. Michael's younger brother, Marshall, also attended with his brother as a typical peer.
"The staff there was just amazing" Diana said. "They were very patient and kind and you could tell that they genuinely cared. We are so glad that's where their education began."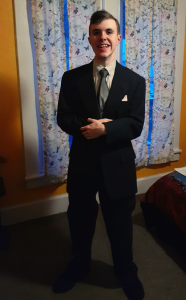 Michael went on to have a very positive experience at McGuffey Elementary School. Michael is currently at Boundless where, Diana said, "they care about the kids' well being and safety."
Michael loves it when people draw for him and one of his behavior techs, who is also an artist, enjoys drawing his favorite Disney characters for him and always adds a positive and encouraging quote.
Michael is a huge fan of Disney films and animated shows. He also loves using the computer.
"It's the way he connects with the world," Diana said.
Over the years Michael has also participated in Special Olympics track, the Team Up adaptive baseball program and the Pony Express.
The Lehmans' current goals for Michael are to improve his communication and computer skills. Ultimately their vision for Michael would be for him to participate in a program such as Exceptional Minds, which trains people with autism to work in animation and the film industry.
Michael is the only Boundless student graduating this spring. He will be having a graduation ceremony and an Aladdin themed graduation party with an eventual trip to Walt Disney World.
"We want him to have the full Disney experience," Diana said. "He will be so thrilled. We just want him to be happy and to be able to pursue his interests," she said.
Photos and some parts of this story were contributed by the Lehman family.