The second rotation has helped interns discover new experiences.
For all high school students, the transition to life after high school is filled with new experiences.
So it's important for young people to venture out of their comfort zones and explore new options.
That certainly has been a priority this year for the six students in Project SEARCH.
In its fourth year in Licking County, Project SEARCH gives young adults the opportunity to spend an entire school year at the Licking Memorial Hospital, gaining the training and soft skills they need to transition from school to adult life.
Hosted by Licking Memorial Health Systems, Project SEARCH is a partnership between the hospital, the Licking County Board of Developmental Disabilities, Opportunities for Ohioans with Disabilities, the Licking County Educational Service Center and Greenleaf Job Training Services, Inc.
Led by an instructor, job coaches and directors and managers within LMHS departments, the students receive a combination of classroom instruction, career exploration and on-the-job training.
Students from Newark City, Granville, Lakewood, Southwest Licking, Licking Valley and Big Walnut will complete three internships by the end of the year with hopes of seeking competitive employment upon graduating from the program.
When it comes to placing interns in their rotations, each students gets to suggest departments they are interested in, but ultimately the goal is to give them exposure to as many new experiences as possible, said Tina Angeletti, Licking County's Project SEARCH instructor.
For interns Andrew and Travis, trying something different has had positive results. Learn more about their stories below: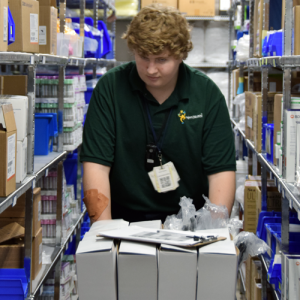 Andrew Robinson
After completing his first rotation in the Emergency Department, Andrew wasn't sure that he would like interning in purchasing.
But he said he trusted Tina to place him somewhere that would be a good fit.
Over the past few weeks, Andrew has been excited to find he's really enjoying it. He likes working with numbers, which is helpful in the purchasing department.
"The staff is really nice," he said.
Andrew has enjoyed his second rotation so much he is interested in applying for a similar job in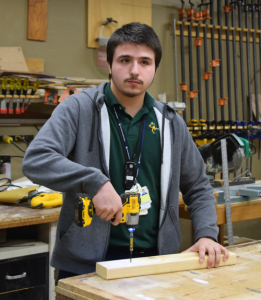 purchasing, that would be closer to his home in Sunbury.
Travis Jones
Travis had a great first rotation in purchasing, but was somewhat nervous about moving on to maintenance and engineering.
He hadn't had a lot of previous experience using tools, but he embraced the new opportunity and fit right in with the camaraderie of the department.
Over the past few weeks, Travis, of Newark, has learned to do some woodworking and welding and cleaned the chillers.
So far, the Newark High School student has really enjoyed his Project SEARCH experience.
"They are teaching us life skills, which will help us become adults," he said.