Lucy Conley is learning and growing every day!
Lucy Conley is one of a kind.
With her bright eyes, adorable smile and silly sense of humor, she keeps her parents and sisters laughing.
"Her life has been a journey," said her mother Susan. "But she is the happiest kid I've ever known."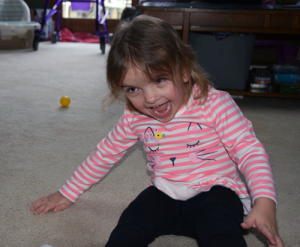 Now 3, Lucy is starting afternoon preschool. She can zoom around quickly with a walker and knows about 30 different words. These are huge accomplishments that are the results of lots of hard work.
Susan was pregnant with Lucy when doctors told her and her husband Rich that their youngest daughter had several congenital brain malformations.
As an infant, it was clear that she was experiencing global delays, Susan said.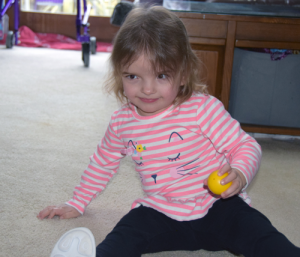 "She would just lay there," Susan said. "We had all kinds of questions for our neurologists about her future, but we were basically told it was unpredictable. We won't know she can do something until she does it."
Lucy began intensive therapy at Children's and got connected with the Licking County Board of Developmental Disabilities' Early Intervention program.
'We pour every ounce of energy we have into making sure she has the opportunity to do typical things," Susan said.
Every minute of therapy has made a difference but Susan said she is particularly thankful for Early Intervention because it was provided in their home.
"They taught me, just because we don't have the same equipment as Children's doesn't mean we can't work on things at home," she said.
The Conley s learned how to use Lucy's toys and items in their Pataskala house to help her learn new skills.
Although she has aged out of Early Intervention, Lucy continues to receive services from LCBDD and works with Developmental Specialist Diane Dodson.
But Susan said she will always be thankful for the strong foundation created by Early Intervention and the relationship she forged with Physical Therapist Annie Green.
Annie would often collaborate with Lucy's team at Children's and she was always there to listen and offer suggestions.
"It was amazing having someone to to talk to who never made you feel judged," she said.
Susan said she is excited to see what the future holds for her daughter.
"She is improving daily," she said.
For more information about Early Intervention in Licking County, go to lcountydd.org/early-childhood/.