For Chad Kaylor, an outside the box idea lead to an awesome opportunity to try something new.
Chad Kaylor was sitting in a planning meeting at the Licking County Board of Developmental Disabilities when his service coordinator, Lynn Hersman, asked him a question that made him stop and think.
"We were sitting there and she said, 'Chad, if you could do anything (as a job), what would you want to do," his mother Karen Kaylor-Blake remembered.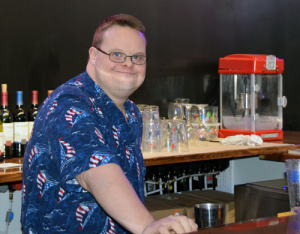 Chad thought for a while, but nothing came to mind. Then he remembered the local Moose Lodge, where he and his mother are members, and all the good work the organization does. And the fun times he's had there.
"Chad said, 'I want to be a bartender at the Moose with my friends," Karen said.
Sitting with Karen, Lynn and Chad at the meeting were a group of direct support professionals ( or DSPs) who work to support Chad in his home and help him meet his goals.
Ashley Greene, a DSP at CSS immediately thought of a friend of hers, who works at Dickeys BBQ Pit on 21st St. in Newark.
She reached out to ask if they would let Chad give bartending a try, to see if it's something he might like to continue to work toward.
Chad, who is 39, and his mother have stopped in to Dickeys to order food, so Donna Saalfield, the general manager, knew that he would be friendly and outgoing with their customers.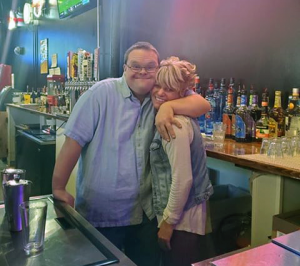 "We wanted to help (Chad) in any way we could," she said. "We love helping people, we are all about the customers and service."
With all the pieces in place, the quickly threw together a surprise. When Chad arrived at the restaurant, Donna approached him.
"She said, "Hey Chad, I'm swamped, can you help me,'" Karen said. "You would have thought she offered him the world."
Both Donna and Karen had worked to spread the word so the bar was busy with family and friends.
With Donna's help, Chad greeted and waited on customers and helped with the register. It was clear he was having a great time, Donna said.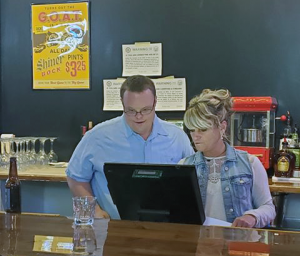 "At the end, there was not a dry eye in the house," she said. "Everyone was cheering and crying. You could see it meant the world to him."
Karen was filled with pride seeing her son smiling and chatting with customers. She expressed her gratitude to Dickeys and the DSPs that support him, for understanding her priorities for her son.
When Chad was born with Down syndrome in 1980, Karen saw there was a lot of emphasis on the challenges his disability would bring.
"All I wanted was to give Chad the opportunity to do every thing that we can do," she said. "I never said, "You can't do this." I've always wanted him to be able to try. And I got my wish."
Donna said they would be happy to have Chad come back and have a regular night that he helps out, to gain more skills. They will post more information on the Dickey's Facebook page to invite the community to attend.
Thinking about that makes Chad smile.
"I love it," he said. "I like seeing other people and I love to help out."
Some photos provided by Ashley Greene.