With support, Aaron Smith has a new lease on life.
Aaron Smith maintains a busy schedule.
He enjoys walking for exercise and playing Bingo and attending potlucks with his neighbors in his apartment complex.
Even when he's home, he spends time keeping up with politics, working on the book he's writing and taking classes online. He also is a dedicated "cat-dad" to his furry friend, Patsy Cline.
Those who have known Aaron for the last few years are thrilled by his new active lifestyle.
Three years ago he was grieving and depressed and hardly ever left the house. He was living in an apartment that wasn't good for him.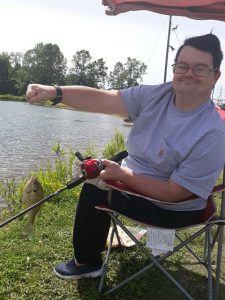 But with the support of his team at the Licking County Board of Developmental Disabilities and his provider, Bloom, Aaron was able to find a new place to live and started counseling.
"Now he's totally different," said Brittany Park, his LCBDD Service Coordinator.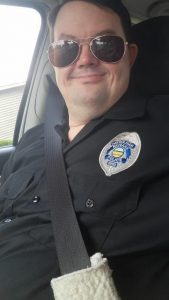 Aaron has learned to use journaling and meditation to help manage his feelings and eating right and exercising has helped him get physically stronger. Now he has more time and energy for his many passions.
One of his biggest interests is government and politics. He would love to someday hold public office or be a firefighter or police officer.
He feels a strong connection to the family of Congressman John Ashbrook and often emails his political representatives about issues that are important to him, such as gas prices and Medicare.
His providers at Bloom organized a big surprise for him in March for his 52 birthday by inviting local firefighters and police officers to visit him for cake and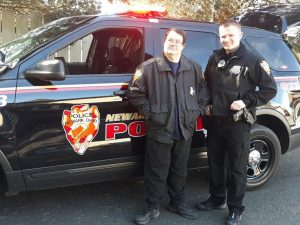 ice cream. Aaron was able to ride in the fire truck and the police cruiser and try on some uniforms.
He was invited to participate in some upcoming drills with the department in the spring of 2020.
Now that his world has opened up, Aaron is interested in trying new things. He recently accepted an invitation to pose as a hair model in a Charles Penzone hair style portfolio. He also won third place in the Licking County Aging Program's fishing tournament.
"We are very proud of how far he's come," said Beth Caldwell, program specialist at Bloom.
He's looking at spending more time at the library and The Works and learning to play guitar. He would also like to volunteer on a political campaign.
He recently inspired one of his providers to register to vote for the first time.
"He has a passion for making a difference on people's lives and being a part of something bigger," Beth said.
Some photos courtesy of Bloom.