This year's small but mighty group of interns is getting noticed at LMH.
This year's group of seven Project SEARCH interns are already getting noticed at Licking Memorial Hospital.
"Our interns are really valued and in high demand," said Tina Angeletti, Licking County's Project SEARCH instructor.
At least one department has already expressed interest in hiring one of the interns when their year-long commitment to Project SEARCH has ended, Tina said.
In its fourth year in Licking County, Project SEARCH gives young adults the opportunity to spend an entire school year at the hospital, gaining the training and soft skills they need to transition from school to adult life.
Hosted by Licking Memorial Health Systems, Project SEARCH is a partnership between the hospital, the Licking County Board of Developmental Disabilities, Opportunities for Ohioans with Disabilities, the Licking County Educational Service Center and Greenleaf Job Training Services, Inc.
Led by an instructor, job coaches and directors and managers within LMHS departments, the students receive a combination of classroom instruction, career exploration and on-the-job training.
Students from Newark City, Granville, Lakewood, Southwest Licking, Licking Valley and Big Walnut will complete three internships by the end of the year with hopes of seeking competitive employment upon graduating from the program.
Interns Jackson Whitt and Melanie Arnett have big dreams and Project SEARCH is helping them reach them. Learn more about them below.
Jackson Whitt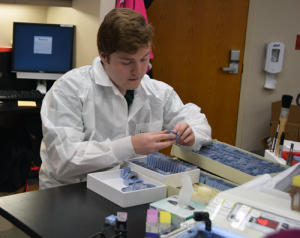 When he was taking classes at Licking Valley High School and Newark Digital Academy, Jackson Whitt loved science classes.
So when he found out his first internship would be in LMH's laboratories, he was thrilled.
Jackson has spent the past weeks in the hospital's histology lab, which focuses on studying cells and tissues under a microscope.
Jackson, 18, is the first Project SEARCH intern to be placed in the lab in several years and he is representing the program well, Tina said.
He's learned to prepare slides, create cultures and has even worked on a project counting white blood cells.
"It's been wonderful, I've loved it and I really don't want to go (to another rotation,)" he said.
But he knows that other internships could help him improve some of his social skills and help him practice talking on the phone more.
Jackson said he decided to try Project SEARCH because he wanted a way to explore his interests and think about future careers.
"I may want to further my education, but I'd want to see how this plays out in the course of the rest of the year," he said.
Melanie Arnett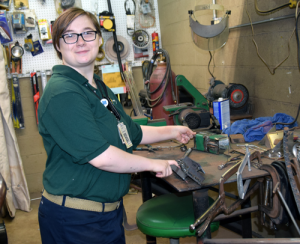 Melanie Arnett has dreams of being a welder.
So when she found out her first internship would be at LMH's maintenance and engineering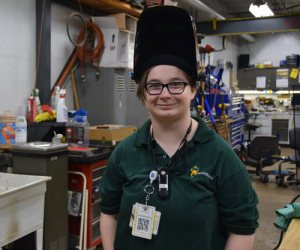 department, she was extremely excited.
So far, the internship has lived up to her expectations. She's been able to practice welding and has helped with painting, building rocking chairs and cleaning the chillers. She recently cleaned up a water leak and worked with the rest of the staff to build a giant leaf blower.
"I love it, I'm lucky I got to do the internship I really wanted," she said.
The full time staff members have enjoyed working with Melanie and have taken her under their wings. They appreciate her enthusiasm and willingness to always do what she is asked.
Melanie, 19,  said she's looking forward to continuing to learn in her next two internships. She already feels like she's gained new skills.
"I've improved on my social interaction and my work ethic," she said. "I've met a lot of nice people."
Once she's done with Project SEARCH, Melanie would like to earn her welding certification from C-TEC.