Marissa Diamond has combined her two passions into her own business.
Marissa Diamond loves creating art. But one of her other passions is dogs.
She often creates detailed painting and drawings of her dogs and her favorite canine characters.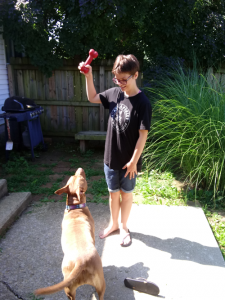 She and her mother, Kate Diamond, have been working toward creating an Etsy store and an Instagram account to showcase her work. But they've also come up with another idea for her to increase her financial independence, while doing something she enjoys.
This summer, they started Marissa's Paw Pals, a pet services business that specialized in dog walking, pet visits and homemade dog treats.
"We took her two favorite things, art and dogs and put them together," Kate said. "So far it's been a good experience."
Marissa, 18, is still in school, attending classes at My Place to Be and needed a job she could do after school, on weekends and in the summertime, Kate said. She is most comfortable working independently, with a family member nearby, so starting her own business made sense.
Marissa's independent provider Shawna Davis was instrumental in starting things up, Kate said.  She helped Marissa design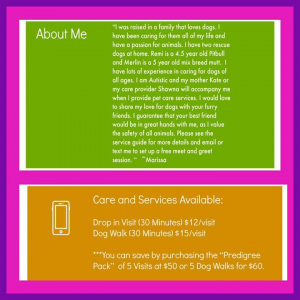 labels for the dog treats, a Facebook page and flyers, She also helped Marissa practice her pet care skills all summer with her friends' and neighbors' dogs and helped her make treats.
"We honestly wouldn't be as far as we are without her," Kate said.
Since they started spreading the word about Paw Pals, Marissa has had four different clients pay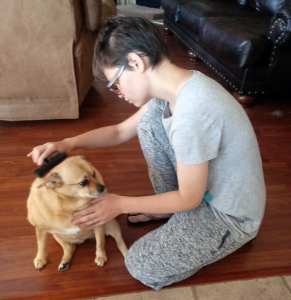 her to walk their dogs. Each dog receives a 30-minute walk using a biodegradable poop bag, a few minutes of playtime and a homemade dog treat. At the end of the walk Marissa fills out a form, reporting on her visit and either sends photos or draw a picture of the dogs.
She has also left similar reports for clients who are traveling and need someone to visit their dogs and take them out.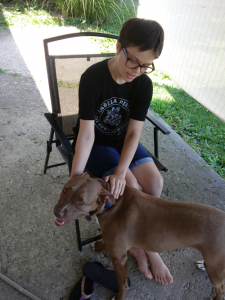 On top of that, Marissa has about ten different clients who purchase her homemade dog treats.
She named them Akeelah Treats, in honor of her first dog Akeelah, and makes them at home, using fresh herbs and organic ingredients.
Her two dogs, Merlin and Remy like to taste test the treats and she also tries out new flavors with the dogs she walks.
Kate said her hope is that after Marissa graduates, she will be able to live at home, working on her art and her dog care business.
Playing with the dogs has helped Marissa manage stress and learn new skills, such as accountability, she said.
Ultimately Marissa would like expand her client base and eventually start offering baths for dogs.
"It's been awesome," she said.
For more information search Marissa's PawPals on Facebook or email marissaspawpals@gmail.com.
Photo credit: Kate Diamond.