As a DSP, Stormi Lutman, from Center for Disability Services, helps people achieve their dreams.
Stormi Lutman loves her job.
She's only been working at Center for Disability Services as a Direct Support Professional since the beginning of July, but she's already helped several people make their dreams come true.
"I love my people (I work with)," she said. "We have an absolute ball."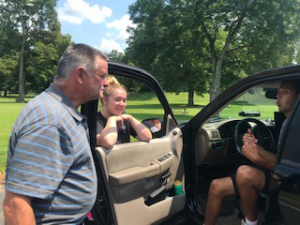 Stormi grew up with a brother with developmental disabilities, so helping others is in her blood.
As a teenager she volunteered at Camp Echoing Hills and helped out in the special education classes at her high school. So when she had the chance to work for CDS, she jumped on it.
Now she supports five different people, including Ray Shaw, a longtime family friend.
Ray would often ask her to go to the library with him, so he could research his passions, storm chasing and ghost hunting. He was particularly interested in meeting up with Ian Bussey, who has spent time sharing his storm chasing experiences with schools, summer camp groups and other community organizations.
Stormi decided to try to bring the two storm enthusiasts together, and arranged a surprise meeting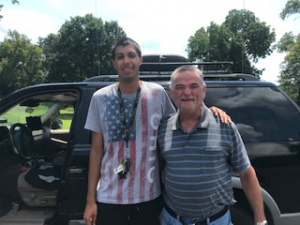 for Ray.
"He really got a kick out of it," Stormi said.
Ray said when he walked into the room and realized Ian was there, he was excited.
"I was happy," he said. "He is a really good guy."
Ian said he was happy to share some of his knowledge with Ray.
"Storm chasing isn't like the movie 'Twister,'" he said. "It has its ups and downs."
Ian has been storm chasing since 2013 and holds several certifications from the National Weather Service and the Community Emergency Response Team.
He drives a specially equipped vehicle that has bright lights, a siren and an emergency public address system, which helps him track weather systems and report his findings.
He helped Ray learn about the online training for the Skywarn program, which is used by the National Weather Service to compile local data.
"It's good because they learn ways to help the community, if there are more spotters, there's better protection," he said.
Stormi and Ray have been going through the training together and Ray is proud to share he's passed every section.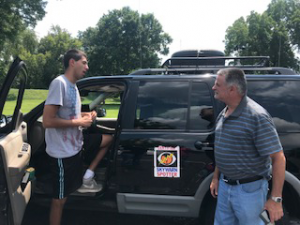 "He's been really excited," Stormi said. "It's something he loves to do. So if he loves to do it, I'm going to learn how to do it too."
Those types of moments are what make being a DSP fun, Stormi said.
She shared that she helped another man that she supports learn to cook Hamburger Helper and he was so excited he cried.
Now she is working to help a woman she works with learn to ride a horse.
"She tried to tell me that she couldn't ride because of her disability and I told her, 'You can do anything that you want to do,'" she said.
Those are the kinds of things that make Stormi a great DSP, Ray said.
'She's alright," he said. "She's a good kid."
The week of Sept. 8-14 is National Direct Support Professionals Recognition Week. If you would like to recognize a DSP, or find out how to become one, contact Brandi Body at 740-349-6588 or go to DSPCareers.com.