Summer work experiences help students discover their career interests.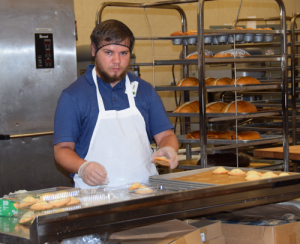 James Petrey was looking for a way to gain some work experience and make a little money.
Spending time surrounded by cupcakes, muffins and cookies at the Giant Eagle bakery was a sweet way to spend the summer,
James, 19, was one of the Licking County young adults who had the opportunity to participate in a summer youth work experience this year.
Organized by Opportunities for Ohioans with Disabilities (OOD), the program allows students ages 14 to 21 who have a disability the opportunity to explore careers and gain on-the-job training.
"This is an early transformational experience of what work can be like," said Jay Burns of OOD's Provider and Contract Management Unit.  "Students learn more about who they are and what they want out of life."
Students interested in the program have two options. Career exploration, which is geared toward younger students, allows students to hear speakers from various fields, participate in career related field trips and think about their interests and workplace needs.
A group of 17 Licking County students participated in career exploration this summer.
Older students have the opportunity to participate in a work experience and are assigned a work site based on their interests. During that time, they receive support from a job coach and earn minimum wage.
There were 39 Licking County students who participated in a work experience this summer at a variety of sites, including Dawes Arboretum, Giant Eagle, Goodwill Unlimited, the Hampton Inn, Newark Care and Rehab, Olive Garden, Rural King and the Trout Club.
In Licking County, students supported by the Licking County Board of Developmental Disabilities are referred to the five-week program by their employment support specialists.
OOD collaborated with partner agencies, A2Z Cares, Behavioral Healthcare Partners of Central Ohio, Greenleaf Job Training Service, and Licking Knox Goodwill Industries which provided the job coaching at the different work sites.
"A great deal of planning goes into making summer youth experiences a success," said OOD Director Kevin Miller. "Hats off to providers and staff for their efforts in helping youth gain a strong foothold in their career path."
The Licking County Board of Developmental Disabilities caught up with several students participating in a summer work experience. Here are their stories:
Alex Cagney and Alex Shonebarger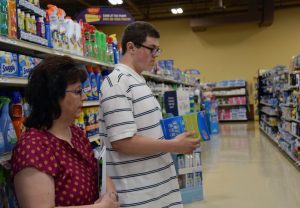 After spending time at Giant Eagle last summer, Alex Cagney went back again, dusting and cleaning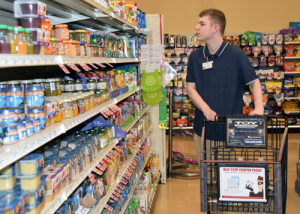 and stocking shelves.
A student at Newark High School, he said his favorite part of the job was stocking the frozen foods.
"I like it here," he said.
Alex Shonebarger, who will be attending Ohio State University-Newark and studying mechanical engineering, worked at the Rural King site last summer and spent this summer at Giant Eagle.
He learned how to stock shelves and work in the bakery while improving his social skills.
Brooklyn Grady and Eliana Hansen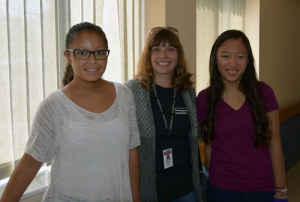 Both students at Granville High School, Brooklyn and Eliana were referred to the summer work program by their Employment Support Specialist Jaclyn Alexander. (Pictured on the left).
Both teens were placed at Newark Care and Rehab where they helped with laundry and cleaning.
The experience was eye-opening for Brooklyn, who realized that she didn't want a job where she would have to clean, but really enjoyed interacting with the residents in the facility. She's now thinking she wants a job where she can work with people.
Eliana said she is hoping to get a job where she can work with animals.
Both students were excited to earn a paycheck and are saving their money for big purchases — a phone for Eliana and headphones for Brooklyn.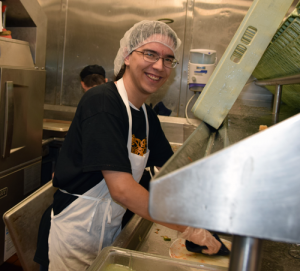 Michael Chenoweth
Michael's dream is to be a musician one day. But he also enjoyed learning how to use the dish tank at the Heath Olive Garden.
Michael, who attends Summit High School in Reynoldsburg, really showed his work ethic and positive attitude over the course of the program, said his job coach Andrew Hammond.
"He learned to speak up for himself in the workplace," he said. "I think his ability to work with a team has improved. He's able to work with others in the dish tank and prioritize jobs."
Micah Hollins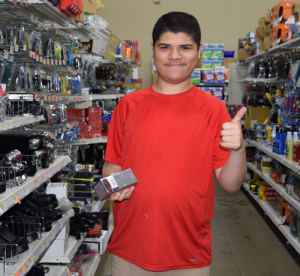 Micah said his favorite part about working at Rural King was being a part of a team.
Over the course of the program, the Utica High School student, learned about stocking shelves and putting away products and shopping carts. He also gained a better understanding of workplace safety.
It was also fun to visit the baby chicks and bunnies at the store, he said.
Micah said he really liked Rural King but his dream job would be at a restaurant.
If you have a child, 14 years of age or older with a disability, reach out to OOD for more information on how the agency can help your child with career exploration, skill development, and strategies to get a job after graduation. Counselors begin talking with students and their parents, about next summer's opportunities, beginning in the fall. To find out more, go to https://www.ood.ohio.gov/transition-students.
Opportunities for Ohioans with Disabilities contributed to this article.