Tanner Krupp has an exciting new volunteer opportunity, with the National Guard.
Tanner Krupp is very proud of his family's military history.
His grandfather, who is one of his heroes, served in World War II and he has had several uncles in the military. It has always been his dream to follow in their footsteps and serve his country in some way.
This June, he got his opportunity. Tanner has started volunteering every two weeks for the 371 Special Troops Battalion of the Army National Guard, based in Newark.
His duties to date consist of shredding and checking the oil and tires on the vehicles at the armory. He's looking forward to assisting with yard work and unloading and loading up vehicles.
It's easy to see how meaningful it is for him to be involved.
"I feel good (about volunteering)," he said,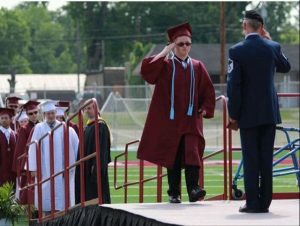 Tanner's first experience with the military came in high school, when he joined Newark High School's Air Force Junior Reserve Officer Training Corps and was part of the Color Guard team.
After completing high school and Project SEARCH, he took on three different jobs, working at Don and Sue's Pizza, Hope Farm in Granville and Coffee Shack Coffee Roasters and Cafe. But his goal of being involved in the military in some way remained.
Both Tanner's mother Wanda Krupp and Dorinda Burley, his service coordinator at the Licking County Board of Developmental Disabilities, reached out to the Newark armory and were able to talk with Major Jeff Jones, the administrative officer for the 371st.
It took several months to get connected and get the paperwork processed for Tanner's clearance, but Jeff said they were excited by the opportunity.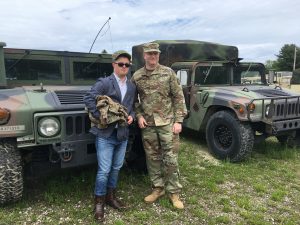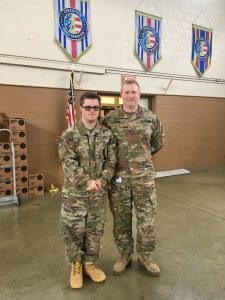 "One of the big reasons was, we want to do a lot more community outreach from our armory," he said. "We thought it would be a great thing to be a part of. This was one of his big dreams."
It was an exciting day when Tanner was able to visit the armory, share his family's military history with the Major, and pick up his official uniform.
For Wanda, it was incredibly touching.
"Major Jones told Tanner, 'You are one of us now,'" she said.
Jeff said he's thankful to Wanda and Dorinda for reaching out. He is looking forward to having Tanner at the armory as long as he would like to continue volunteering. He's also open to having others volunteer, if they can get appropriate clearance.
"Our team loves having (Tanner) here. It's good for us, he's really helped us out a lot," he said.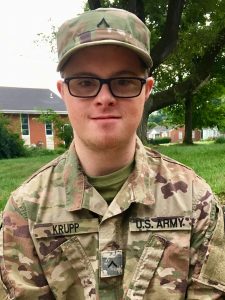 Volunteering at the National Guard is just one of Tanner's many activities. He also enjoys going to concerts, doing karate and yoga, camping in their family RV and learning guitar. He's also hoping to take up the banjo.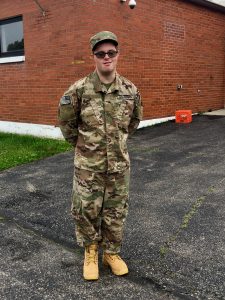 It's important to Wanda that Tanner shares his story, to encourage other people with disabilities and their families to get involved.
Instead of focusing on the fact that Tanner wasn't eligible to serve his country because of his disability, they focused on what he could do to give back.
"Listen to your kid's interests and what they like," she said. "Let them explore and try. You have the power to make it happen. Try to take that step."
County board service coordinators can really help brainstorm activities or volunteer opportunities, Wanda said. Parents can also try talking to other families. event organizers, instructors or coaches about their children's   interests. You never know what could happen.
"Maybe it will open up doors," she said.