LCBDD's Early Intervention team has been working together to support Tanner McDonald.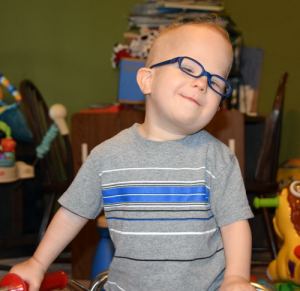 Tanner McDonald is always smiling.
"He is the happiest little guy," his father, Josh McDonald, said.
He's a bit of a daredevil, testing out new ways to play with his toys, and likes to splash in the swimming pool.
His parents are very proud of all the accomplishments he's made in the last year. Despite seeing more than seven different doctors and specialists throughout the year, he's maintained a happy disposition.
Tanner, who will turn 2 at at the end of July, was diagnosed with KAT6A syndrome, which is caused by a genetic deletion.
The syndrome is extremely rare, affecting only 250 people worldwide, Josh said. Children's Hospital believes Tanner is the only child in Ohio they know of who has it.
There isn't much known about KAT6A, but it typically causes developmental delays. Tanner's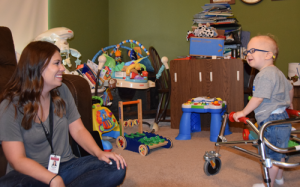 doctors referred him to the Licking County Board of Developmental Disabilities (LCBDD) Early Intervention program.
LCBDD offers Early Intervention (EI) services in the homes of children, birth to age 3, with developmental delays, disabilities or medical conditions likely to result in delays. Services are provided at no cost to Licking County families.
T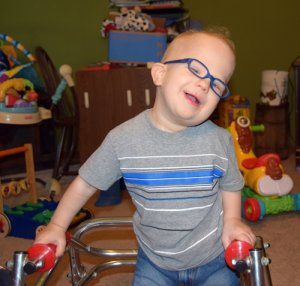 he Early Intervention team worked together to support Tanner's family, offering him occupational therapy. They also connected his family to the Ohio State School for the Blind to address some vision concerns.
His parents were one of the first families to attend LCBDD's weekly Early Childhood meeting to meet with the entire team and share their questions.
Tanner is crawling and his parents are hoping he'll be walking soon. They are planning to continue helping him work on eating and speech.
When Tanner first started in Early intervention, he couldn't even roll over. So seeing him cruising on the furniture and walking with a walker is a huge success, Josh said.
For more information about Early Intervention in Licking County, go to lcountydd.org/early-childhood/.