Early Intervention has helped Karter beat the odds!
There's a wheelchair and a shower chair collecting dust in Karter Lee's basement.
His parents, Amber Pettit and Bobby Lee, couldn't be happier about it.
When Karter was born two and a half years ago, doctors told his family he would probably never walk.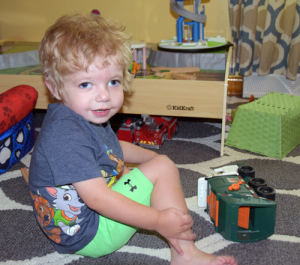 Now he is on the move, laughing, talking, playing with his big brother Conner and swimming in their backyard pool.
After a completely normal pregnancy, Karter was diagnosed with a heart defect and had surgery 14 hours after birth.
He almost didn't survive and "coded" for 10 minutes after the operation, then spent time on a heart and lung bypass machine. But he fought through and was finally able to leave the hospital after three months.
Doctors at Children's hospital diagnosed him with spastic quadriplegia, a type of cerebral palsy that affects the muscles in all four limbs.
His family was referred to the Licking County Board of Developmental Disabilities (LCBDD) Early Intervention program.
"I had no idea about any of the services he could receive," Amber said.
LCBDD offers Early Intervention (EI) services in the homes of children, birth to age 3, with developmental delays, disabilities or medical conditions likely to result in delays. Services are provided at no cost to Licking County families.
Karter's family met with service coordinator Laura Elliott and began visits with LCBDD's occupational therapist Karlie Fleak.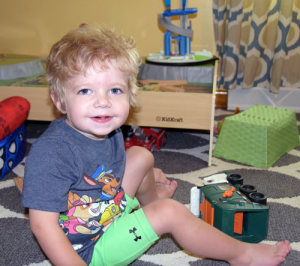 They worked hard for six months, helping him learn to roll. But after that, he took off, crawling and later walking.
"(Karlie) has also been a huge support system for me," Amber said, "She's been able to give me suggestions and reassurance."
Karter has made so much progress, doctors have since adjusted his diagnosis to spastic diplegia, which primarily causes muscle stiffness in the legs.
He's been working on walking with ankle braces and stretching out his fingers. He's also working on eating more table foods. But there is no question he's come a long way, Amber said.
He's a happy little guy, who loves superheroes and Paw Patrol. Amber said she's excited to see him start preschool when he turns 3.
"I'm thankful for all he's accomplished," she said.
For more information about Early Intervention in Licking County, go to lcountydd.org/early-childhood/.