Perseus Decker enjoys sharing her musical talents with others.
When Perseus Decker was 2, she began plinking out "Twinkle Twinkle Little Star" on a toy piano.
That would have been impressive for any toddler but it was especially amazing for Perseus, who could not see the keys.
Now 13, Perseus will be starting seventh grade in the fall at the Ohio State School for the Blind.
Playing, arranging and composing music remains a huge part of her life, and she gives credit to God for her talents.
"He took my sight, but he gave me music," she said.
Although her teachers at school helped her learn some technical aspects, much of Perseus' music comes naturally.
She is a big fan of classical music, by Beethoven, Bach and Tchaikovsky, but also composes her own pieces.
She can be heard playing at her church, God's Acres, and at school concerts, where she has debuted some original songs.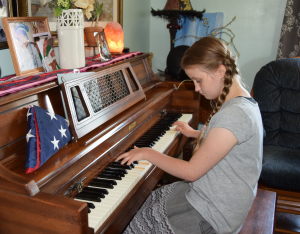 Her family also created a Facebook Fan page where people can watch videos of her playing and support her.
A lifelong resident of Newark, Perseus has been supported by the Licking County Board of Developmental Disabilities for many years.
She received Early Intervention services and attended the E.S. Weiant Center for preschool.
Over the years, the board has supported her family by providing resources and information about different adaptive equipment.
"If it wasn't for them, we wouldn't have as many things (to help her)," said her father, Shawn Decker.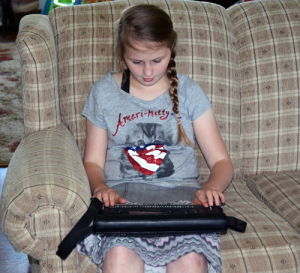 Perseus uses a Braille display, which can synch with her phone or other devices.
"It makes her more independent, so she has the ability to write and do the things she likes on her own," Shawn said.
Perseus likes to write stories, and read, especially the "Anne of Green Gables" series.
She especially likes being able to use her display to follow along with Bible devotions at church.
She recently started using a Braille labeler, which allows her to label her CDs and other items. Her family is using it to label their household appliances, so Perseus can do more household tasks and gain more independence.
One of their next goals is to research technology that will allow Perseus to record her music and share it with others, said her mother, Charla Decker.
A local music store has offered to sell CDs of her music, once she has them ready.
"That would be something she'd really enjoy," Charla said.