The Guard family, of Pataskala, is advocating for all children to be included.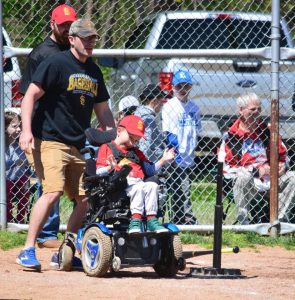 Eli Guard loves playing T-ball.
"I hit a ball all the way to the grass and went to first base," he said proudly. "I really like hitting and running to the bases and catching."
Since he started playing in the Southwest Licking Youth Baseball League this spring, Eli has had several strong plays, tagging three players out at first base.
For his parents, Nichole and Zac Guard, these moments are always exciting.
"Eli is, as far as we know, the first kiddo in an electric wheelchair to be included in T-ball," Nichole said.
Eli, 5,  was diagnosed with spinal muscular atrophy (SMA) over a year ago after his family spent years searching for answers.
When he isn't attending preschool, he enjoys going "off road" and exploring outside, playing sports and video games and watching superhero movies and drawing comics.
He loves football and enjoys helping out at his older brother Luke's football games.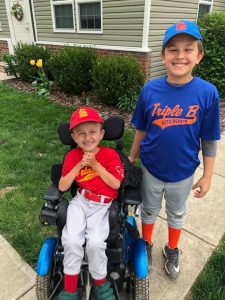 His mother has a mission to make sure that, as he grows, Eli and children like him continue to be included in the things they enjoy.
"I've found purpose in this thing," Nichole said. "As it's all unfolded, I've realized this is what I need to be doing."
Nichole and Zac had to start advocating for their son early on.
When Eli turned 18 months old and still wasn't crawling, they started pushing for more information.
They got connected to the Licking County Board of Developmental Disabilities' Early Intervention program and Nationwide Children's Hospital.
The goal was that Eli would start therapies and get stronger, but his muscles got weaker and weaker.
Without a diagnosis, it was challenging to get Eli the adaptive equipment he needed, Nichole said.
She started Eli's Engine, an initiative to raise money to buy him a wheelchair.
When genetic testing finally confirmed that Eli had SMA, the Guards had the information they needed to plan for Eli's future.
They were able to get coverage for an updated motorized wheelchair that gave Eli independence to get around on his own.
Eli was also eligible to begin treatment with a new drug, Spinraza, as soon as he was diagnosed.
SMA is a genetic disease that causes a protein deficiency that affects the nerve cells and causes muscle weakness. Spinraza increases production of that protein.
Since starting Spinraza, Eli has regained some strength and has had the opportunity to try things he's never done before.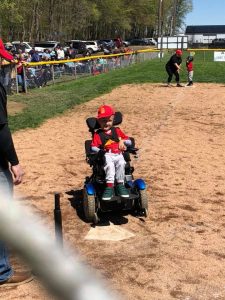 "He can pull stuff off the shelf. When he is at T-ball and goes over a bump, he can hold his own head up. A year ago he could not," Nichole said. "We have a diagnosis and a treatment. Life is good."
With all their family has been through in the last few years, Nichole said she felt called to turn Eli's Engine into a group with a larger mission.
"If Eli wants to go somewhere, we make it happen," she said. "I started out trying to help Eli and I felt a calling for advocacy for all these kiddos. I don't want people to feel left out. I want to provide kiddos who want to be a part of things the opportunity to do so."
Her new goal is to help raise money for the adaptive equipment children might need to participate in community activities and provide support and resources for parents.
She's also hoping to change the conversation around local events and encourage more inclusion.
In the spring, a friend shared some information with her about an inclusive Easter egg hunt in New Lexington.
She decided Eli's Engine could help bring that event to families in Pataskala.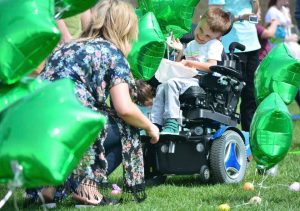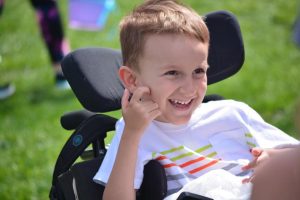 Partnering with the Pataskala Lions Club on their annual hunt, Eli's Engine donated eggs, candy and balloons, creating an area where children could collect eggs by grabbing balloons.
"Inclusion is about letting everyone participate, but maybe in a different way," she said.
Her next goal is to raise money for an accessible swing, so that Eli and other children can swing at one of the local playgrounds.
"This is just the beginning," Nichole said. "I think great things are always on the horizon if you work toward them."
Activity photos provided by the Guard family.