On May 20, 11 Project SEARCH interns will celebrate completion of the program.
As the 11 Project SEARCH interns prepare for graduation, they are thinking about future work opportunities.
Their final rotation at Licking Memorial Hospital has been a busy one with three interns starting brand new rotations at the health system's Tamarack facility.
The students are practicing interviews, working on resumes and brainstorming places they would like to work, including restaurants and nursing homes. Some are in the process of applying for jobs at the hospital.
The Licking County Board of Developmental Disabilities spent time getting to know another group interns as they complete their third rotation. Learn more about them below!
Mat Avery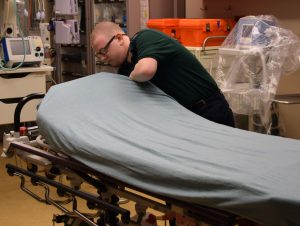 Over the past year, Mat Avery has gotten a lot of compliments on his work ethic. He likes to tackle a job, full steam ahead.
He has applied that method during his internships in the culinary and engineering departments. Now he is interning in the hospital's emergency department.
Mat, who went to Heath High School but now lives in Newark, works hard to clean rooms, take out trash and take items to the laundry. He has gotten good at checking to see what rooms are empty and cleaning them quickly so they can be used for the next patient.
When Mat started Project SEARCH, he was unsure if it was right for him. But once he made the commitment to complete it, he has been all in.
He has learned to see things through to the end.
Greg Stumbo
Greg, of Pataskala, has already had some interviews for work outside on a grounds crew.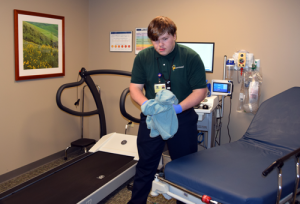 His favorite internship has been working in the maintenance and engineering department because he enjoys working outside. But he also interned in purchasing and is finishing up Project SEARCH in the cardiology department.
His daily duties include cleaning rooms, making coffee, helping with mail and boxing and labeling files.
Greg, a student from Licking Heights High School, has a quiet personality, so he has enjoyed meeting new people through Project SEARCH and practicing interview skills.
Scott McDaniel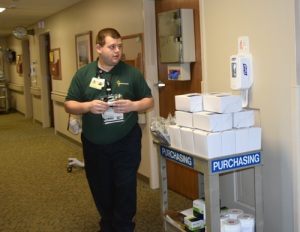 As he's spent more time at LMH, Scott has received more compliments on being courteous to patients and having an easy going attitude.
Scott, a student from Northridge High School, started Project SEARCH in acute rehab/oncology then interned in the culinary department and purchasing.
His favorite internship was culinary and he is hoping to get a job in a restaurant or nursing home working in the kitchen or the dish room.
It is important to him to spend evenings with his family, but he is hoping to find a job that will fit his schedule.
Bryanna Osborne
When asked to share her favorite part of Project SEARCH, Bryanna said she appreciates all the support she has received from the LMH staff members.
A student at Northland High School, Bryanna, who is deaf, started the program interning in the hospital's concierge department. She did so well there that she continued to volunteer there during the holidays.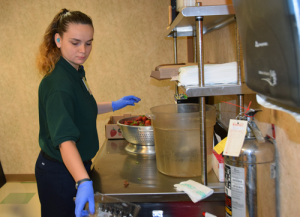 She spent her second rotation in sterile processing and is now interning in the culinary department, in the cafe at the Tamarack location.
In each rotation, Bryanna, of Newark, spent the first two weeks of each rotation with a sign language interpreter to make sure she learned her new job duties accurately. She also uses an interpreter during classroom time.
In the cafe, she helps with stocking, cutting fruits and vegetables, preparing desserts and wrapping sandwiches, stocking the salad bar and cleaning.
At first she wasn't interested in culinary, but once she tried it, she discovered she really enjoyed it.
Now she's hoping to get a job working in culinary or environmental services.