The second rotation is going well for the LMH Project SEARCH interns.
Whether they are thinking about college or getting right into the work force, this year's group of Project SEARCH interns are using their time at Licking Memorial Hospital to learn as much as they can.
The group of high school interns are in their second of three rotations in the program.
Hosted by Licking Memorial Health Systems, Project SEARCH is a partnership between the hospital, the Licking County Board of Developmental Disabilities, Opportunities for Ohioans with Disabilities, the Licking County Educational Service Center and Greenleaf Job Training Services, Inc.
Led by an instructor, job coaches and directors and managers within LMHS departments, the students receive a combination of classroom instruction, career exploration and on-the-job training.
Students from Granville, Northridge, Newark City, Heath and Licking Heights schools will complete three internships by the end of the year with hopes of seeking competitive employment upon graduating from the program.
Once they wrap up their second experience, several of the students will get to pilot new intern positions at the Licking Memorial Health System's Tamarack facility, including assisting in Human Resources and the physical and occupational therapy programs.
The Licking County Board of DD spent time getting to know three of the 11 interns as they worked through their second rotation. Learn more about them below!
Maria Rodriguez Betancourt
A senior at Northridge High School, Maria is hoping to attend college to pursue nursing or something else in the healthcare field.
So she has definitely enjoyed her first two internships.
Maria began the program in Labor and Delivery where she helped take equipment to sterile processing, prepare the rooms for patients, prepped the infant cribs and helped with inventory and administrative tasks.
Now working in the hospital's concierge services office, Maria has helped wrap gifts, assemble packets and make candy bouquets.
The office supports LMH staff by offering to order flowers and candy bouquets, wrap gifts, order shoes, mail letters and coordinate dry cleaning.
Christmas was especially busy, with so many holiday gifts to wrap, but Maria said she enjoyed helping out.
She's looking forward to learning even more during her final internship.
"It's really interesting," she said. "It's really exciting to be in the program because you learn more new stuff in every department."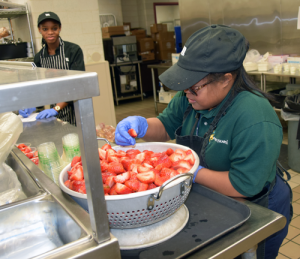 Jordyn Hubert 
Jordyn enjoys cooking and Project SEARCH has helped confirm she wants to work at a restaurant.
After starting out interning in cardiology — where she helped make beds, assembled medical kits, completed administrative tasks and brought water to patients — the Granville senior began her second internship in the culinary department.
She's helped prep fruits and vegetables, set up the salad bar and helped in the dish room. She's also learning how to work in a large scale kitchen.
She smiles quickly when she talks about her experience with Project SEARCH.
"I love it," she said.
Michaela Ford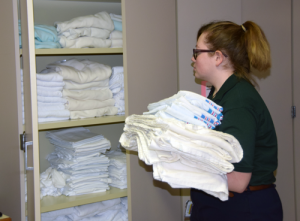 When Michaela started Project SEARCH, one of her goals was to get more comfortable talking to new people.
Assisting patients has definitely helped her improve her skills.
Michaela started out in oncology where she helped with filing and assisted patients. She did such a great job, the department staff members were sad to see her go.
Now the Heath senior is interning in Labor and Delivery where she helps prep the rooms for the mothers and babies, folds towels and blankets and helps transport patients to the lobby.
Michaela is thinking about going to college and might get a job while also taking classes.