The ITEC program at C-TEC allows high school students to gain work experience.
When the ITEC program started at C-TEC in 2003, it supported one student in four different work experiences.
The program has come a long way since then.
This fall, ITEC — more formally referred to as Individualized Transition Education to Careers — kicked off its 16th school year, working with high school juniors and seniors to provide them with two years of work experience, as they prepare for life after high school.
"The biggest things our kids learn are basic work skills that will carry over," said Bruce Piper, ITEC job training coordinator. "They are learning to ask for more work, ask for a job to be explained and take initiative."
Bruce, who has been with the program since the beginning, came to C-TEC after working for 15 years as an intervention specialist for Newark City Schools.
There was a need for students with individualized education programs to gain work skills and identify fields they were interested in, Bruce said.
Sean Kern, who came to ITEC in its first year, has a background in special needs work skill development. He has been invaluable as a job coach, and has been a key part in finding new job sites.
Although it started small, ITEC has grown and now includes between 20 to 25 students from around the county each year.
Many of these juniors and seniors are referred to the program by their home schools, the Licking County Board of Developmental Disabilities or Opportunities for Ohioans with Disabilities.
Each student must apply and be accepted to the program. They go through three work experiences each year, rotating three jobs at each location, Bruce said.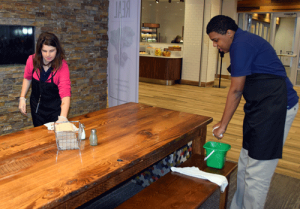 "That's nine experiences in two years," he said. "The primary goal is for our students to take ownership of the work in front of them and gain a set of skills, so they can take them with them and implement them in their next job."
By the time they leave the program, each student will have a portfolio of the places they worked and the responsibilities they had to show future employers.
"Exposing them to all different experiences is key," Bruce said. "We hope a light bulb goes off in respect to a job they might want to do. We also want them to develop the ability to handle change — which for many of our students can be difficult — to develop the stamina to work a full shift and to eventually claim their job and duties as their own."
This year, students will spend time working at Ohio State University-Newark, Licking Memorial Health Systems, Denison University, Golf Works, Star Wipers, Armor Source, Kendal at Granville and INTEC.
They also spend time in the classroom, learning interpersonal and money management skills.
Bruce said he always enjoys seeing students he has taught working out in the community after graduation.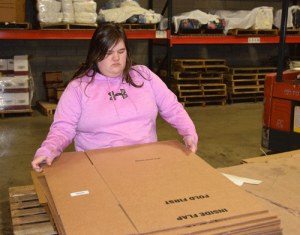 "This program helps them make a decision about where they want to work later on," he said.
ITEC is a valuable partner to the Licking County Board of Developmental Disabilities' Employment Supports department, as staff members work to help students plan for the future, said Holly Shellogg, director of Employment Supports.
"ITEC has provided many young people, especially youth with developmental disabilities, with the work experience and career exploration they need to consider what jobs they want to apply for, or if they want to explore post-secondary education," Holly said.
The program has been a great opportunity for students who are interested in the year long Project SEARCH internship program, Holly said. Since Project SEARCH first started in Licking County in 2016, about 13 students who've participated are ITEC alumni.
Clare Marchok, a junior at Watkins Memorial High School, started off her ITEC experience working at Denison's Curtis West dining hall.
Her goal is to work in childcare.
"ITEC helps you learn to do a real job," she said.
For Allen Gross, chef and manager at Curtis West, the relationship with ITEC has been very positive. Students not only help with dishes, cleaning and food prep, but they also learn to work side by side — and attend trainings — with the full time staff.
"They really become a part of the team. When they are not here anymore it's a huge change," he said. "If ITEC is in the house, you really can tell the day is going to be successful."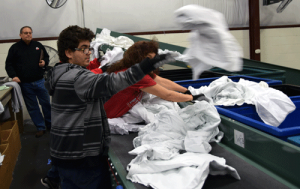 For Chris Andrews, a senior from Licking Heights High School, working at Denison helped him decide he wanted to look outside of food services to find a job.
He recently started his ITEC experience at Star Wipers in Newark and has been learning to sort different types of rags on the assembly line. He said it's been one of his favorite work experiences so far.
The employees at Star Wipers enjoy mentoring the ITEC students, teaching them the business while getting to know them, said Valerie Spanovich, HR manager for Star Wipers.
"They get a lot of work done," she said. "It's a great relationship for us as a company and the community and the students as well."
A conversation with an acquaintance led Nathan Miller, general manager and co-owner of INTEC Ohio, to offer his business to ITEC as its newest job training location.
The past few months having students at the company —which provides services and supplies to the screen printing industry — have been great, Nathan said.
The students have gotten to experience all the aspects of his business, and he's already reached out to one about a job after graduation.
"I love showing people a trade skill, he said. "I love this, it's a fantastic program."
For more information about ITEC, click here.