Assistive Technology of Ohio offers the opportunity to test out tech.
The assistive technology field is moving fast and with that, people with disabilities are seeing new opportunities for independence.
But with so many options out there, it can be difficult to know where to start.
For the past 18 years, the staff of Assistive Technology of Ohio (ATO) has helped people and their families take those first steps toward introducing technology or upgrading their existing equipment — using their expertise to help find the right fit.
The Assistive Technology office is somewhat tucked away, located at Ohio State University's Building 073, a research center on Kinnear Road.
But when visitors pas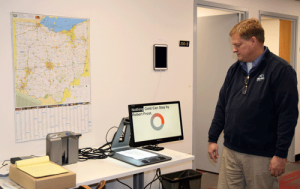 s through the door, they are greeted with tables and shelves full of different devices, from simple switches to complex augmentative and alternative communication options.
Whether a person needs support at home, at school or at work, they can come to ATO and explore by turning things on and testing them out.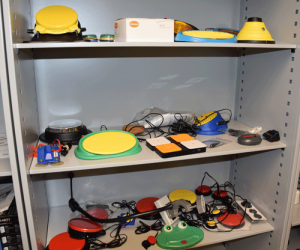 If transportation is a barrier — it's no problem. ATO also ships devices anywhere around the state for families to try. The agency covers the shipping costs and just asks recipients to fill out a survey.
"We are really education based, telling the story of how technology helps people with disabilities," said Bill Darling, ATO director. "We are usually a great place to start."
ATO was established by the Assistive Technology Act, which provides federal funding from the U.S. Department of Education to every state and U.S. territory to provide assistive technology resources.
In the 1990s, Governor George Voinovich established ATO at Ohio State, where it was originally a joint project of the colleges of medicine and engineering.
Now it is a part of the Integrated Systems Engineering department, Bill said.
"Our staff members aren't engineers, we are all (from the disability field). We don't make or invent stuff, you just have to understand how it helps," he said. "One of the things that really makes us unique is that we are one of the few programs that can be for any age, for any type of disability."
Over the years, ATO has worked with families, caseworkers, teachers and intervention specialists. Sometimes they will get calls asking about a very specific piece of technology.
"But most people call and say, 'I want to do this and I can't. What do you have?'" he said.  "We'll send you something and if it doesn't work, we will send you something else."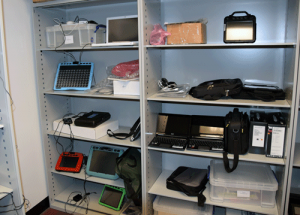 If ATO doesn't have a specific device or product, they have partnerships with a network of agencies, charities and organizations and can make referrals to those resources to get people what they are looking for.
With Ohio recently becoming a Technology First state, technology lending options like ATO can be a valuable resource for families.
Signed in May, the Technology First executive order charged the Ohio Department of Developmental Disabilities to work with a Technology First Council and county boards of developmental disabilities to ensure technology is considered as part of all service and support plans for people with disabilities.
Although remote supports can be an important resource for some people, the order also allows for an increase in other forms of assistive technology.
Starting in January, people will be able to use their waiver to support them as they look for the right technology, purchase it and learn how to use it.
As more people begin considering technology, it's important they make informed choices.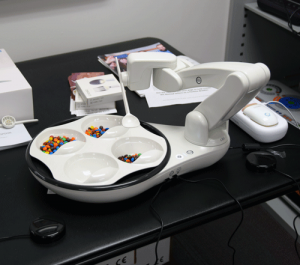 "The real benefit (of ATO) is, it allows you to make good decisions. You can try it out and then we follow up to see, did you purchase the device?," Bill said.  "Sometimes the best decision is not to purchase the device."
Sometimes a simple solution is the best option, Bill said.
"If you have a simple need, don't put a big fix on it," he said.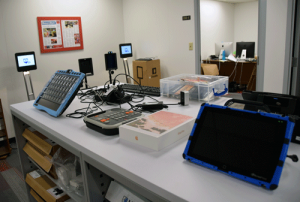 ATO is constantly on the lookout for new ways to use technology to support people with disabilities, working to expand their offerings and get grants to pilot new options.
The agency also has a computer refurbishment and redistribution program, offering any person with a disability the ability to own a computer at a extremely discounted rate.
Any person or family member who would like more information about any of ATO's offerings is welcome to call or stop by, Bill said.
"It's important to try things out so you can see what (technology) you are interested in," he said. "Come in and learn about it."
Assistive Technology of Ohio is located at 1314 Kinnear Road in Columbus. For more information call 1-800-784-3425  or 614-292-2390. You can also email atohio@osu.edu or go to atohio.org. If you are supported by the Licking County Board of Developmental Disabilities and would like to discuss technology further, please contact your service coordinator.