For Marissa Diamond, technology is part of her present and future.
Like any 17-year-old, Marissa Diamond likes to be independent.
But sometimes she needs help remembering to do things like take her vitamins or wants a heads up that it's time to get ready to go.
More than a year ago, at the suggestion of her service coordinator at the Licking County Board of Developmental Disabilities, Marissa's family got her an Octopus watch.
Since then, she has used it to keep track of her schedule and accomplish tasks, like walking her dog.
The watch, designed for anyone 3 and older, is a great option for people who use a Picture Exchange Communication System, said Kate Diamond, Marissa's mom.
Kate is able to use her phone to program the watch, choosing pictures and setting up a daily schedule for Marissa. When it's time to complete a task, the watch vibrates and a image and time show on the screen.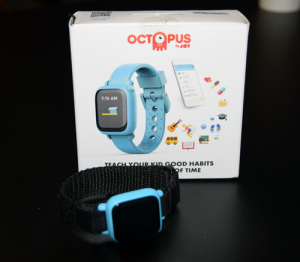 Kate can also request that Marissa pushes a button on the watch to show she completed the task.
Now that Marissa is in her senior year and has had some success with the watch, her family is looking at other technology that will give her reminders and help her gain more independence.
Marissa, who is on the autism spectrum, is home schooled and attends My Place to Be. A dedicated artist, she is in the process of getting certified in the Toon Boom animation software. Her goal is to create her own original cartoons while continuing to create new artwork.
For the past few years, her work has been on display at the downtown branch of the Licking County Library in April, as part of a display for Autism Awareness Month.
Recently, Marissa has been entering her work in different art competitions and is preparing to take the next step toward marketing and selling her work.
Kate is helping her go through the process of starting an Instagram account for her artwork and starting an online store on Etsy.com.  Once the site is live, their goal is for Marissa to be able to sell the original artwork and books that she has created.
Kate is also hoping Marissa can use Etsy to be an "artist for hire" and she can be paid to create commissioned artwork.
Even a few years ago, the idea of starting an art business would have been difficult. But because of technology, like social media and Etsy.com, Marissa has the chance to earn money and pursue her passion for art, Kate said.
If you have questions about technology, contact your LCBDD service coordinator to start the conversation.