Technology has become a big part of Elena Selfinger's day!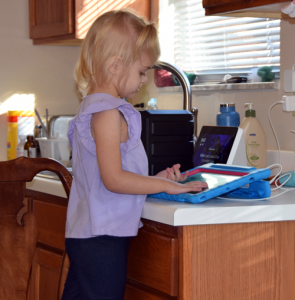 Elena Selfinger's days are filled with music.
The almost 3-year-old loves listening to Panic at the Disco, 21 Pilots and Paramore. Her family is able to use an iPad or ask Alexa to play the music that calms her down and makes her happy.
"There is always music in the house," she said. "It soothes her soul."
Playing music is just one way the Selfingers have used technology to support Elena.
Since she doesn't use words to communicate, Elena has started to use an iPad with the Go Talk NOW app to ask for the toys, songs, TV shows and food she wants.
Her family is looking forward to seeing her progress.
"We want her to be able to communicate with others, so we have been taking her device with us when we go places," Mandy said.
Elena, of Pataskala, got connected with the Licking County Board of Developmental Disabilities' Early Intervention program shortly after her first birthday.
Her parents were concerned that she wasn't meeting milestones so she was evaluated at Nationwide Children's Hospital and given a provisional diagnosis of autism. Hospital staff encouraged the Selfingers to contact LCBDD.
LCBDD offers Early Intervention services in the homes of children, birth to age 3, with developmental delays, disabilities or medical conditions likely to result in delays. Services are provided at no cost to Licking County families.
Elena began receiving a team-based approach that included occupational, physical and speech therapy. She and her family also participate in PLAY Project, an early intervention program for young children with autism, offered to local families by LCBDD.
One aspect of PLAY Project is using videos to document sessions and offer feedback. These videos are one way the Selfingers have watched their daughter progress.
Over the past two years, she's learned to walk, improved her fine motor skills and is now able to use pictures to communicate her wants and needs.
Mandy, her husband Chris and Elena's three older sisters already use their Amazon Echo regularly, so it made sense to incorporate it into Elena's routines.
"When we find something that really helps her, we go extreme and embrace it," Mandy said.
They began using an Echo Look, which has a screen, to play Elena's favorite music and shows. It also works as their baby monitor and Elena can voice chat with her mother, when her sisters are babysitting.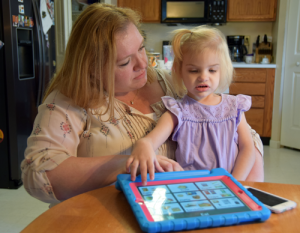 When Mandy began doing research about additional assistive communication devices, LCBDD was able to connect her with Assistive Technology of Ohio and Ohio Center for Autism and Low Incidence (OCALI)  — two organizations in Columbus that allowed her to borrow devices and cases to test and see which ones worked best for Elena.
They ultimately decided to use their iPad and accessed LCBDD Family Support Services funds to purchase the Go Talk NOW app.
Elena is preparing to start preschool in January and she will be using the device in the classroom.
Mandy said she's looking forward to seeing how her daughter uses technology as she grows. She encourages other families to see what options are out there.
"Don't be afraid," she said. "Just try it."
If you have questions about technology, contact your LCBDD service coordinator to start the conversation.