Kathy Moore has been happily working at the Kroger Marketplace for two years.
Kathy Moore has spent the last two years as a courtesy clerk at the Kroger Marketplace on North 21st Street.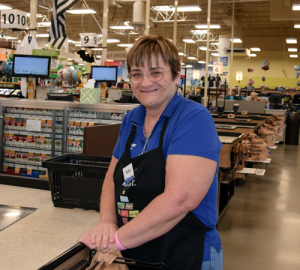 Whether she's bagging groceries — taking special care to keep the bread and eggs on top — or helping customers to their cars, she always has a smile and an upbeat attitude.
Customers have been taking notice. A regular customer recently praised Kathy for the care she takes bagging and helping her with her groceries. She said she appreciates Kathy so much she makes sure to shop at Kroger on days Kathy is working.
Kathy also went through some skills assessments and passed each one with 100 percent accuracy, which made her very proud.
"I can't believe it's been two years," she said. "This is nicer than the other places I've worked."
Kathy, of Newark, has worked at a variety of places over the years, most recently in a sheltered environment at THK Manufacturing. When the Kroger Marketplace opened, she decided it was the perfect opportunity to make a change.
In 2016, she connected with the Employment First project through the Licking County Board of Developmental Disabilities and was able to receive support from Opportunities for Ohioans with Disabilities and LICCO, a division of The Fuse Network, to prepare for the application and interview process at Kroger.
Since being hired, she's continued to have follow along support from LICCO.
Kathy said she looks forward to coming to work to spend time with her coworkers. The money she earns helps her participate in activities at the Gathering Place and do her shopping.
"I just like it here," she said."I've got a lot of friends and they are all nice to me."