Project SEARCH starts with its third group of interns.
It's been more than a month since Project SEARCH started back up at Licking Memorial Hospital and this year's group of interns has been getting lots of compliments on their maturity and professionalism.
In its third year in Licking County, the program has given 11 young adults the opportunity to spend an entire school year at the hospital, gaining the training and soft skills they need to transition from school to adult life.
Hosted by Licking Memorial Health Systems, Project SEARCH is a partnership between the hospital, the Licking County Board of Developmental Disabilities, Opportunities for Ohioans with Disabilities, the Licking County Educational Service Center and Greenleaf Job Training Services, Inc.
Led by an instructor, job coaches and directors and managers within LMHS departments, the students receive a combination of classroom instruction, career exploration and on-the-job training.
Students from Granville, Northridge, Newark City, Heath and Licking Heights schools will complete three internships by the end of the year with hopes of seeking competitive employment upon graduating from the program.
The Licking County Board of DD spent time getting to know three of the 11 interns as they worked through their first rotation. Learn more about them below!
Lukas Ingram and Mac Croom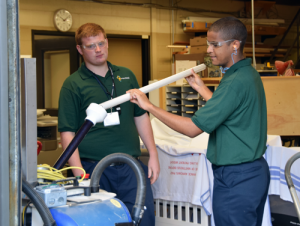 Lukas, a student at Licking Heights High School, and Mac, a student at Heath High School, both started their Project SEARCH experience in LMH's maintenance and engineering department.
For Lukas, whose dream is to work on cars, the opportunity work on one of the hospital's vans was truly exciting.
Mac said he enjoys feeding and caring for the fish in the hospital's oncology department. He and Lukas have been testing the water to make sure the pH levels are correct.
Both interns enjoy keeping busy and learning new things. Over the last few weeks they've helped weed the hospital's garden and harvest the vegetables. They've learned how to check the boiler system for sediment and make corrections if there is an issue with the equipment.
Lukas said he's glad he took his grandfather's advice to try Project SEARCH. He enjoys being active every day and tries to be a leader for the other interns.
Mac said he's enjoyed some of the classroom activities, which have helped him improve his computer skills.
Marcus Henderson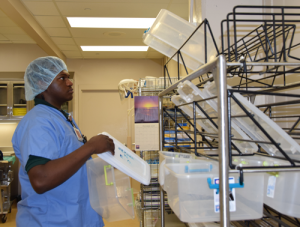 Marcus, a student at Licking Heights High School, doesn't spend much time sharing his accomplishments. But the staff members at LMH are beginning to  notice.
He began his first internship in the surgery department, where he stocked the blanket warmer and patient carts, distributed blankets and care-grams and helped transport patients.
The surgery department recently received an email from the wife of a patient — sharing that Marcus transported her husband to their car in a wheelchair and she was touched by his kindness.
Since then, Marcus has taken on a new internship in sterile processing. He's learned to wash carts, dry medical tools and prep trays.
At first he started out prepping simple trays. But recently he prepared a 99 instrument tray with 100 percent accuracy.
Marcus is working part time at the Limited, but he's hoping Project SEARCH will help him get a full time job at a hospital, or in manufacturing.
"It's helped me with the job skills I need to improve on," he said "It's helped me stay focused."