Early Intervention has helped Esther Henson quickly meet milestones.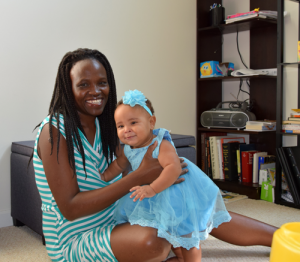 Esther Henson loves to dance and keeps her family smiling with her new moves.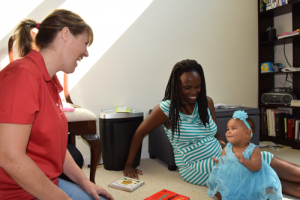 At 10 months old, she is on the move and learning new skills all the time.
For the past five months, Esther has been receiving Early Intervention services from the Licking County Board of Developmental Disabilities.
LCBDD Developmental Specialist Colleen Tullis comes to their Pataskala home regularly and works with Esther's mother, Julia Ngigi, to come up with new skills for Esther learn and ways that Julia can help her master them.
Esther typically makes lots of progress between visits and it's always exciting to see what she will do next, Julia said.
"I'm always looking forward to Colleen's visits because we are watching this baby grow together," she said.
Esther was diagnosed with a congenital heart defect shortly after she was born. She was able to avoid surgery and instead, her doctors are monitoring her condition.
But when Julia expressed concern to her pediatrician that Esther wasn't making eye contact, the doctor referred her to Early Intervention.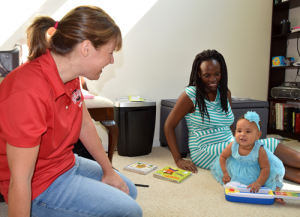 LCBDD offers Early Intervention (EI) services in the homes of children, birth to age 3, with developmental delays, disabilities or medical conditions likely to result in delays. Services are provided at no cost to Licking County families.
Esther was eligible for EI because of her medical diagnosis. Over the past few months, she has gone from sitting up to cruising and standing on her own. She has learned to love books and will often repeat words and animal sounds as her mother reads a story.
Esther had a detached retina in her left eye and has seen eye doctors and a specialist to be fitted for glasses.  LCBDD was able to further connect her with vision services, to determine if her low vision in her left eye was affecting her development. This provided their family with a lot of reassurance and good information, Julia said.
Now Esther is working on walking, saying words at mealtime and feeding herself.
When Julia was concerned about Esther eating solid foods and getting enough nourishment,  Colleen was able to come during a meal and share information about the cues Esther would give when she was full. They were able to come up with strategies to help Esther experience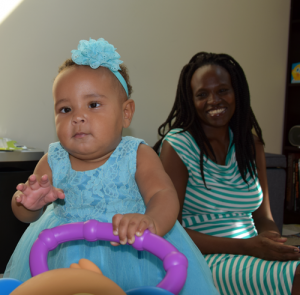 different tastes and textures and practice swallowing food.
"That gave me a lot of peace of mind," Julia said.
Their family is also accessing Family Support Services funds, offered by LCBDD, to help pay for a portion of Esther's medical expenses.
Julia said she appreciates that Early Intervention is done at their home, where Esther can be around her toys and the things she enjoys. She always feels comfortable with Colleen and her team and feels like they blend in effortlessly in their home.
"They make it so easy," she said.
She has recommended the program to other people who have questions about their childrens' development.
"It's given me a lot of reassurance," she said.
For more information about Early Intervention in Licking County, go to lcountydd.org/early-childhood/.