After staying busy at Licking Valley High School, Vince Flowers is ready for the next step.
Vince Flowers has been very active in his time at Licking Valley High School.
Over the past four years, he's been involved in marching band, track and Leo Club.
But one of his proudest accomplishments has been earning a passing grade in one of the high school's most challenging classes — historical geography.
As he prepares to graduate from Licking Valley, Vince said he's enjoyed his high school career.
He's planning on doing some career exploration to figure out the next step. But he said he would like a job that involves working with people and staying active.
Throughout high school, Vince was known for his energy and enthusiasm at Valley's many school dances, where he regularly showed off his moves on the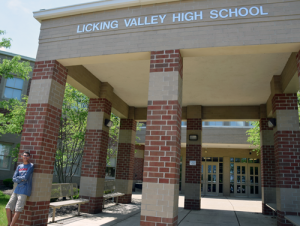 dance floor.
He enjoyed working on community service projects through Leo Club and helping out in the softball concession stand.
Vince has played percussion for many years and was active in the high school's marching and concert bands. He also ran track during freshman year.
When he's not participating in school activities, Vince works part time as a dishwasher at the Granville Inn.
One of his passions is flying and he would love to try skydiving one day. He also enjoys spending time with his family and dog, Rascal.
"He is one of the hardest working, most personable, friendliest kids you'd ever want to meet," said Kristie Conley, an intervention specialist at Licking Valley.
Vince's favorite subject is history, but he also enjoyed participating in the I-TEC program at C-TEC.
He was able to have several work experiences at Kendal at Granville, Denison University, the Newark campus of Ohio State University and Central Ohio Technical College, Star Wipers and Golf Works.
Working at Kendal was his favorite, he said.
"I get along with older people much better," he said. "It seemed normal for me."
He said he is proud of his sense of humor and likes to share it with others.
Vince has been a life long student at Licking Valley and has a history of exceeding expectations, Kristie said. She is thrilled to see what the future holds for him.
"He's a great kid, he has a lot of interests and isn't afraid to take risks. He has a lot of maturity," she said.