Project SEARCH interns are preparing for their May 21 graduation.
With graduation less than a month away, the Project SEARCH interns at Licking Memorial Hospital are in the midst of their third internship rotations.
But they are also preparing to apply for jobs, working on their resumes and getting ready to do interviews.
In its second year in Licking County, the program has given nine young adults the opportunity to spend an entire school year at the hospital, gaining the training and soft skills they need to transition from school to adult life.
Hosted by Licking Memorial Health Systems, Project SEARCH is a partnership between the hospital, the Licking County Board of Developmental Disabilities, Opportunities for Ohioans with Disabilities, the Licking County ESC, and Greenleaf Job Training Services, Inc.
Students from Granville, Northridge, Newark City, Southwest Licking and North Fork schools will complete three internships by the end of the year with hopes of seeking competitive employment upon graduating from the program.
The Licking County Board of DD spent time getting to know another group interns as they complete their third rotation. Learn more about them below!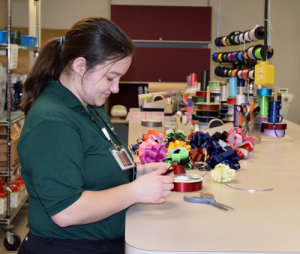 Kamaya Palumbo
Since she started Project SEARCH, Kamaya, 20, has gained confidence and is more comfortable talking about her skills.
One thing she excels at is creating brightly colored bows, for her internship in LMH's concierge services office.
The office supports LMH staff by offering to order flowers and candy bouquets, wrap gifts, order shoes, mail letters and coordinate dry cleaning.
Creating bows and wrapping gifts appeals to Kamaya's interest in art. She enjoys painting and drawing and recently created a painting with the Project SEARCH logo for the program's classroom.
Previously, Kamaya, of Utica, had internships in the cardiology  and culinary departments, where she realized she was interested in working with food.
She is now hoping to get a job at a restaurant after graduation.
Chris Armstrong, 19, likes to stay busy and take care of things for people.
So his three internships at Licking Memorial Hospital have been a good fit for him.
Chris started out in the surgery department, making sure rooms were clean and patients had what they needed. After filling orders and stocking supplies in the purchasing department, he's interning at the culinary department, doing food prep and working in the dish room.
As he thinks about the future, Chris said he would like to find a job at a sporting goods store.
Since he started the program, Chris said he's gained a lot of maturity and professionalism.
He had some advice for next year's class of interns.
"It's not high school, you have to treat it like a job," he said. "Don't be nervous, you will learn the ropes."