Some recent radio ads are just one way Hunter Primmer continues to pursue a career in broadcasting.
Hunter Primmer recently acquired an "On Air" sign that he's hoping to hang outside his bedroom.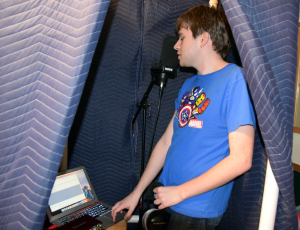 When he's using his new recording studio, he'll light up the sign, so his family knows he's working on a project.
It's just one more way Hunter can gain skills and experience as he pursues his goal of working in the broadcast field.
Since graduating from Johnstown Monroe High School in the spring of 2017, Hunter has has many opportunities to pursue his goal.
Using funds from his SELF Waiver, Hunter began taking voice lessons with Ron Allen of Big Voice Productions, which has helped him refine his technique and improve his consistency with different character voices.
He's also taking an online course with an instructor in California.
As they learned more about the business of doing voice overs for characters and commercials, it became clear that Hunter would need studio space of his own to work on freelance projects, said his mother, Joette Greenstein.
Using money he saved up from his graduation party, he was able to purchase the supplies he needed to build a sound booth in his bedroom, using PVC pipe and sound blankets.
With support from his coaches, he's in the process of recording a demo tape to gain more recording jobs.
He recently volunteered his time to help the Licking County Board of Developmental Disabilities record several commercials for Developmental Disabilties Awareness Month, which aired throughout the month of March on WCLT and WNKO stations.
Hunter also had the opportunity to share his story at a March Johnstown Village Council meeting, where he talked about the support he's received from LCBDD since childhood.
LCBDD continues to support Hunter as he attends the TOPS program at Ohio State University.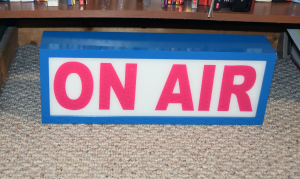 TOPS is a program of OSU's Nisonger Center that gives young adults with developmental disabilities the opportunity to experience college classes and gain independent living skills.
After completing the program, Hunter's goal is to go on to earning a certificate in broadcasting.
Right now, Hunter is in his second semester of TOPS, and has taken classes such as public speaking and independent living. Right now he's working on job preparedness skills, including interviewing and resume writing. He's also taking an acting course, learning scenes from "Angels in America."
Next year, Hunter will be living on campus during the week, so he and his family will spend the summer apartment hunting.
He's continued to work at the Kroger in Johnstown and is working on earning his temporary permit, so he can learn to drive.
Another goal is to start recording audio books, especially books for children. Hunter and his family are hoping he'll have a successful audition and be able to record a book over the summer.