With the addition of new technology, Rhiannon Stowman has gained more independence.
Rhiannon Stowman has lived in her Newark apartment for ten years.
This month was the first time she had ever seen the top of her refrigerator.
Diagnosed with cerebral palsy when she was six months old, Rhiannon has used a wheelchair as long as she can remember. She had gotten used to looking up at people and asking for help to reach things. But now she doesn't have to do that anymore.
With support from the Licking County Board of Developmental Disabilities, Rhiannon was able to get iLevel technology added to her new power wheelchair.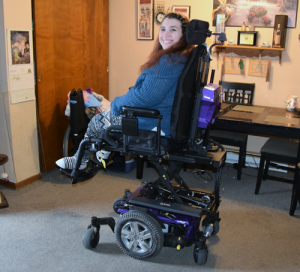 Now with a lift on her chair, she is able to tilt and raise herself to the eye-level of someone standing.
She can finally hold hands with her boyfriend when he is walking by her side. And for the first time, she could give her mom and sister a real hug.
"I'm just discovering everything I can do now," she said.
"It's made her life seem like there are endless possibilities," added Kim Spears, a direct support professional who has worked with Rhiannon for 17 years.
Rhiannon got her first power wheelchair when she was 16 years old and immediately gained more independence.
But over the past few years, she began experiencing issues with her current chair. It was wobbly, unreliable and difficult to sit in for long periods of time. The foot rests were so uncomfortable she began having problems with her feet.
Knowing she would soon be eligible for a new chair from Medicaid, Rhiannon did research on her options. At the suggestion of her wheelchair technician, she began learning about iLevel technology.
Then she approached Sarah Quinn, her LCBDD service coordinator, with her findings. Since she lives on her own, she wanted something that would help her be more independent, especially during the times when she doesn't have staff support.
"I told her, 'I know it's not medically necessary, but I think this will really help me," Rhiannon said.
Rhiannon has an Individual Options waiver and with Sarah's help, she was able to get approval to fund the addition to her chair.
Around that time, she was able to get a van with a lift so she could pull her chair directly into the vehicle, making it much easier for her to get around.
"All of my independence is coming together," Rhiannon said. "I'm so happy and comfortable."
Not only is her new chair more supportive for her back but with six-wheel suspension, she feels much safer being outside on uneven ground. The new foot rests are more comfortable and she can fit through the doors of her apartment without scraping the walls.
But the biggest change has been all the experiences that the iLevel lift now allows her to have.
Many of the things she is thrilled about are what others take for granted, but for her they've been huge.
By tilting her chair, she's able to get her hair cut and have an eye exam without being transferred out of her wheelchair. She can reach items at the grocery store, get things out of the freezer, get a drink from a vending machine and pull up to counters.
"It's easier for me, because I don't have to ask for a clipboard at the doctor's office because before I couldn't see the counter to sign my name," she said. "I don't have to ask for help with dumb stuff like getting a cup from the cupboard.  I don't have to do that anymore and it's the most freeing thing."
For Rhiannon, the ability to go to a restaurant with friends and pull up to the bar or a high top table is exciting. And the opportunity to dance with her boyfriend or have a conversation with someone at eye level is priceless.
"It feels like all the freedom in the world," she said. "I feel like I've run a marathon and I've made it to the finish line."
Rhiannon has always been a strong advocate who isn't afraid to use her voice. But Kim said she's noticed that with her new chair, she is even more confident.
She's hoping to get more involved with advocacy, sharing her challenges with transportation in Licking County. And she's thinking about taking college classes to study journalism or creative writing.
"I can go to class and be face to face with the teachers," she said.
She and Kim said they are looking forward to continue working with Sarah, and LCBDD, to figure out what options are available for her.
"The fact of the matter is, we truly are a team," Rhiannon said. "We worked together to get this done."
Rhiannon said she wants to help inform others who use wheelchairs about iLevel technology and other options that could increase their independence, especially those who are struggling with their limitations.
"We are always going to have limits, but with this technology, the limits are a little bit less," she said. "It could give them a little more independence. It really does improve people's lives."