As Project SEARCH, continues, interns are gaining new skills in new roles.
When Project SEARCH interns show up at Licking Memorial Hospital, they are dedicated to fulfilling the daily tasks of their internships.
But many of them are already talking about applying for jobs, once the program is over.
In its second year in Licking County, the program has given nine young adults the opportunity to spend an entire school year at the hospital, gaining the training and soft skills they need to transition from school to adult life.
Hosted by Licking Memorial Health Systems, Project SEARCH is a partnership between the hospital, the Licking County Board of Developmental Disabilities, Opportunities for Ohioans with Disabilities, the Licking County ESC, and Greenleaf Job Training Services, Inc.
Students from Granville, Northridge, Newark City, Southwest Licking and North Fork schools will complete three internships by the end of the year with hopes of seeking competitive employment upon graduating from the program.
The Licking County Board of DD spent time getting to meeting a group of three interns who are enjoying their second rotation. Learn more about them below!
Sharon King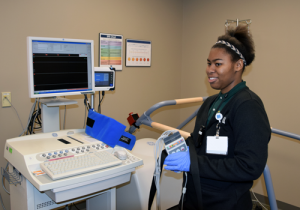 Sharon's friendly smile and outgoing personality have made her a welcomed presence in LMH's cardiology department.
During the first rotation, Sharon, 19, worked in Environmental Services, cleaning bathrooms, taking out the trash, mopping floors and cleaning tables.
In cardiology, she helps clean patient rooms, organizes patients files and keeps the blanket warmer fully stocked. But her favorite responsibility is transporting patients.
"I get along with them," she said,
Sharon, a Newark High School student, is a very hard worker and she is looking forward to getting a job after Project SEARCH. She is interested in more environmental work.
She expressed her gratitude for the program and for instructor Abby Goerke.
"She is a good teacher," she said.
Kendall Wolfe
After spending her first internship in the emergency department, Kendall was excited to try out a new Project SEARCH internship, working in LMH's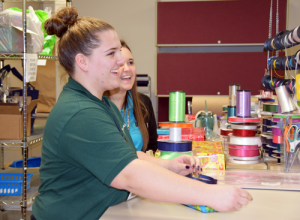 concierge services office.
The office supports LMH staff by offering to order flowers and candy bouquets, wrap gifts, order shoes, mail letters and coordinate dry cleaning.
Since she started, Kendall, a student at Northridge High School, has gained lots of new skills. She's kept busy placing orders, wrapping gifts and learning to how to use the cash register. Recently, she was able to cover for her supervisor while she was unavailable.
Before Project SEARCH, Kendall, 19, wasn't sure what what she wanted to do after high school.
"I really wanted to find a job I was interested in," she said. "Project SEARCH has been really helpful in helping me find out what I could do, and decide what will work for me."
Right now, her long term goal is to work at LMH.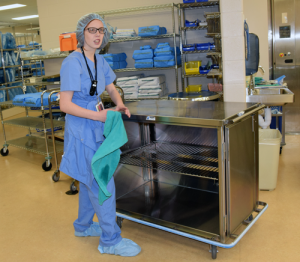 Amanda McQueen
Since she started Project SEARCH, Amanda, 19, has worked in the Labor and Delivery department and has spent the last few weeks in Sterile Processing.
She's been absorbing lots of new information about the different surgical tools and the sterilization standards that must be followed.
"I like learning the different jobs," she said.
A student at Newark High School, Amanda said she has learned a lot of new skills, that she's hopeful will help her get a job.