Grant White is smiling more as his family learns how to help him navigate the world.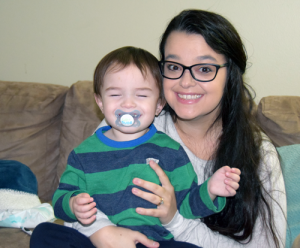 Grant White has a big smile that lights up his face when he plays with his toys or hears a nursery rhyme he likes.
The Newark 2-year-old has been smiling a lot now as his family learns more about helping him communicate and interact with the world.
Receiving speech and occupational therapy services through the Licking County Board of Developmental Disabilities' Early Intervention program has helped Grant feel more comfortable exploring and experimenting.
"He used to be so cautious and was afraid to do new things," said his mother Alexis White. "But since he started (Early Intervention) he plays. It's really helped."
Grant's pediatrician recommended that his parents, Roman and Alexis White, reach out to the Licking County Board of Developmental Disabilities (LCBDD) about a year ago, when it was clear Grant was struggling with speech and wasn't meeting other milestones.
The Whites were also struggling to find food that their son would eat and he was having trouble sleeping. Grant was experiencing issues with his motor skills and intense, uncontrollable tantrums.
"We knew something wasn't right," Alexis said.
LCBDD offers Early Intervention services in the homes of children, birth to age 3, with developmental delays, disabilities or medical conditions likely to result in delays.  Services are provided at no cost to Licking County families.
To LCBDD speech therapist Janelle Pickens and occupational therapist Karlie Wurm, it appeared Grant was struggling with sensory processing issues. They were able to create a "sensory diet" for Grant to help him process his experiences and learn focus and control.
With their guidance, the Whites helped Grant learn to play with his toys, showing him all the different ways they could be used to have fun. They also helped him identify ways he could calm himself down.
"Now he'll go upstairs to cool down and have quiet time," Alexis said. "He sits and reads and when he is ready, he comes down and plays."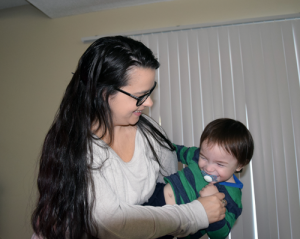 He's saying more words, is using sign language to communicate and is trying different kinds of food.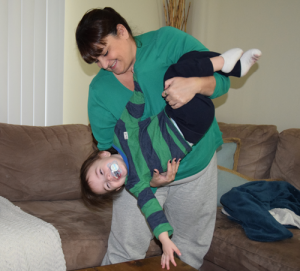 His next big goal is to get more comfortable around other children, Alexis said.
Although Early Intervention services can be provided in a child's home, they can also be provided out in the community, based on a family's goals for their child.
Over the next few weeks, Janelle will meet Alexis and Grant out in the community so they can work on his social skills.
Ultimately their goal is to have Grant ready for preschool in the fall. But even if they have to delay enrollment, Alexis said they are thrilled by how far their son has come.
"They saved us, we really didn't know what to do," she said. "Now he's really grown a lot."
For more information about Early Intervention, go to lcountydd.org/early-childhood/.