Bryson Grooms combines his creativity and love of tech on his YouTube channel.
Bryson Grooms is a Granville Middle School student, a Boy Scout, a musician in his school's bands and a technology enthusiast who enjoys learning about programming.
But to his followers on his YouTube channel, he's known as Bryson GamingNerd — a creator of original video content who brings characters, such as Yoda, Harry Potter and Pikachu, to life.
Bryson, 15, started his own YouTube channel in 2013. He recently celebrated gaining his 500th follower and has big plans to continue creating content and collaborate with other YouTubers.
His interest in video production began in third grade, when he started making videos with Legos and Playmobil toys and Minecraft. But as his interest in gaming, movies and manga grew, he began creating videos with plushies — small soft toys — of some of his favorite characters.
Over the years, his equipment and editing skills have advanced, drawing in more viewers.
One of the main requirements in plushie videos are original, well developed stories. Although Bryson doesn't enjoy writing scripts, he plans out his videos and what each character will say.
"I brainstorm ideas and sometimes I laugh at them," he said.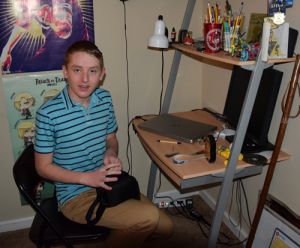 Bryson has always had a talent for mimicking sounds and dialog so all of his characters have unique voices.
As his followers have grown, so has the amount of money Bryson earns from ads on his page.
Over the years he's learned responsibility —taking an online safety class through his Boy Scout troop and starting his own bank account for his earnings. He has his own debit card and is responsible for managing his money, said his parents Todd and Billi Grooms.
He reinvests most of his earnings back into his channel, buying new plushies and equipment.
"This has touched a lot of aspects of his life," Todd said.
Bryson and his family, who have been supported by the Licking County Board of Developmental Disabilities for the past four years, utilize Family Support Services funds to fund a summer camp Bryson attends at Ohio State University. The camp focuses on computer programing and technology.
Bryson is currently interested in attending C-TEC during high school to study digital design and interactive multimedia.
Check out the trailer for Bryson's Youtube channel or visit Bryson's Youtube channel here.