Granville High School freshman Brooklyn Grady has defied expectations.
When Brooklyn Grady was born, doctors told her parents she might never ride a bike or be able to write.
Now 15, Brooklyn is a student at Granville High School. She loves reading — especially Harry Potter books — playing with her two dogs, Samson and Miles, coloring and crafts.
As Brooklyn looks to the future after high school, her family is working to raise awareness about kabuki syndrome — the rare disorder that she was diagnosed with at 18 months.
Kabuki syndrome is a rare genetic disorder that occurs in about 1 in 32,000 births. Although every person with the disorder is different, many experience cardiovascular issues, skeletal problems, hearing loss and developmental disabilities.
Those diagnosed with kabuki syndrome are typically short in stature and have very distinctive facial features.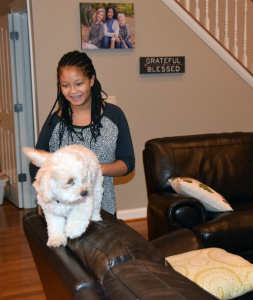 When Brooklyn was born, doctors noticed that her Apgar score was low and her ears appeared different, said her mother, Michelle Cunningham.
But it wasn't until she was 18 months old — and still wasn't walking — that her family began looking for answers.
After an appointment with a geneticist at Nationwide Children's Hospital, Brooklyn was diagnosed immediately.
Her family got connected with the Licking County Board of Developmental Disabilities and Brooklyn began receiving Early Intervention services at the E. S. Weiant Center.
"Without the occupational therapy, speech therapy and physical therapy, she wouldn't be where she is," Michelle said. "The early therapies make a big difference."
Brooklyn wears glasses and has low muscle tone, which makes physical activity and walking long distances challenging.
LCBDD provides Family Support Service funds for Brooklyn to participate in adaptive swimming at the Licking County Family YMCA.
She participates in drama at Granville High School, plays the piano and is active in her church. Her family recently went on a trip to Universal Studios to visit the Wizarding World of Harry Potter.
Her LCBDD service coordinator and employment support specialist are working with her to discuss her plans after high school.
"We've been talking about careers I might want to do, like becoming a veterinarian or a preschool teacher," Brooklyn said.
According to Brooklyn's mother, she is one of the only people in the Licking County area living with the syndrome.
Although they have offered to support other families in the area, they haven't received any calls from Children's. But they've discovered a supportive community on Facebook.
They recently attended a gathering of other kabuki syndrome families held in Cleveland and had the opportunity to meet people from around the world.
Michelle said she feels that it's important to talk about kabuki syndrome to promote awareness and acceptance. She also hopes that parents of newly diagnosed children will see Brooklyn's success and feel hopeful.
"You don't want to put limitations on them, because you never know," she said. "Brooklyn is an overcomer. She has a great life and she's happy. She is the most grateful, loving child you will ever meet."
For more information on kabuki syndrome, go to allthingskabuki.org.