LCBDD will participate in a five-year family support grant initiative.
For many local families, participating in the Early Intervention program is their first experience with the Licking County Board of Developmental Disabilities.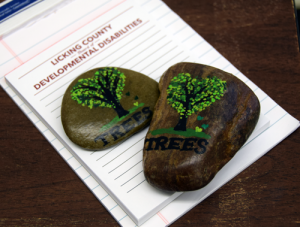 Early Intervention provides family-centered services for infants and toddlers, from birth to age 3, with a developmental delay, disability or a medical condition likely to result in a delay. Services are provided in the home or community and families take an active role in helping children learn and meet their milestones.
Over the next five years, LCBDD's Early Childhood staff will work to improve that service delivery model to ensure those families get the support they need.
Licking County was one of seven county boards asked to participate in a new initiative called Tools and Resources for Engaging, Empowering and Supporting Families, more commonly known as Project TREES.
Funded by a grant from the Ohio DD Council, the project seeks to make sure family support is an integral part of every family's Early Intervention experience.
Families of children receiving Early Intervention can sometimes feel isolated and tools are needed to help them make the connections that they need to thrive, said Ronni Bowyer, Project TREES grant consultant.
"We want to come together to improve the system and understand better ways to improve families' quality of life," she said. "We want to create a network of support and self confidence, self advocacy and resilience and give them a strong foundation for the rest of their journey."
The first step in that process kicked off Nov. 1 as LCBDD staff and families participated in two focus groups at the E.S. Weiant Center.
"We want to do research about their experiences," Ronni said. "We want to know what worked, what didn't, what they needed and when was a time when they felt supported."
After collecting information from participating counties, the Project TREES team will create an definition of what family support should look like — and develop a plan for incorporating that into already existing structures.
When selecting counties to pilot the program, the Project TREES team strategically selected counties that were forward thinking and open to ongoing evolution, Ronni said.
"Licking County rose to the top (in our selection) very quickly, " she said.
Ronni is very familiar with Early Intervention in Licking County. Her children received EI services from LCBDD and she served as the board's Family Support Specialist several years ago. She is now a Parent Mentor for Newark City and Licking County schools
"I am grateful for Project TREES because it has provided me the rare opportunity to come full circle and focus on building a system of supporting families in early intervention at the state level starting right here in my own backyard," she said.
Caley Norton, LCBDD's director of Early Childhood, said she is looking forward to working with the Project TREES team to find our what families value and how the agency can best support them.
"We are really proud of how closely we work with the families we support by listening to what their priorities are and individualizing our services to what they want to focus on — but we want to do it even better," she said. "We don't want to assume that we know what families need.  We want to find a way to better gather than information from the families we serve and it is our hope that participation in Project TREES will help us do just that. "
For more information about the services LCBDD provides for children birth to age 3, go to lcountydd.org/early-childhood.