Project SEARCH is back at Licking Memorial Hospital!
Project SEARCH is in full swing at Licking Memorial Hospital and this year's group of interns seems to be making people stop and take notice.
In its second year in Licking County, the program has given nine young adults the opportunity to spend an entire school year at the hospital, gaining the training and soft skills they need to transition from school to adult life.
Hosted by Licking Memorial Health Systems, Project SEARCH is a partnership between the hospital, the Licking County Board of Developmental Disabilities, Opportunities for Ohioans with Disabilities, the Licking County ESC, and Greenleaf Job Training Services, Inc.
Led by an instructor, job coaches and directors and managers within LMHS departments, the students receive a combination of classroom instruction, career exploration and on-the-job training.
Students from Granville, Northridge, Newark City, Southwest Licking and Utica schools will complete three internships by the end of the year with hopes of seeking competitive employment upon graduating from the program.
The Licking County Board of DD spent time getting to know three of the nine interns as they worked through their first rotation. Learn more about them below!
Faith Burgess
A student at Watkins Memorial High School, Faith was nervous when she started Project SEARCH. But now that she's more comfortable, she's thrilled to be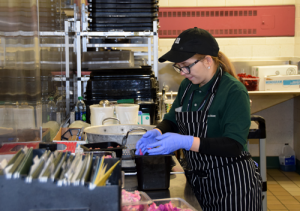 there every day.
"I think it's a really awesome professional (experience)," she said. "There are so many ways to talk about Project SEARCH, it's a great leaning experience."
Faith's first internship is in the hospital's culinary department. She started out in the dish room and did so well she was moved to food prep. She's been working on preparing fruits and vegetables and assembling fruit cups.
Since she started, Faith said she's learned to be more professional and has learned the importance of hard work — and also signing in and out at the beginning and end of each day.
These skills will be important when she's looking for a job, she said.
"I'm thinking of working at Subway," she said. "I might even open my own restaurant some day."
Elise Barth
Elise likes to keep busy so the hospital's pharmacy has been a great fit for her.
A student at Granville High School, Elise helps with cleaning, sorting and shelving and makes sure all the department's printers are stocked with paper.
She's earned the trust of her coworkers and was recently given a very important task of checking forms to make sure the appropriate signatures are present.
Elise said she's learned how to ask for more tasks when she's finished her work.
She loves baking and spending time with children and hopes to one day work in a daycare.
She's looking forward to her next two internships.
"I want to work with patients to boost my confidence a little bit," she said.
Jace Williams
Jace said he's gained a lot working in the hospital's purchasing department, but one of the things he's really enjoyed learning is how to interact with patients.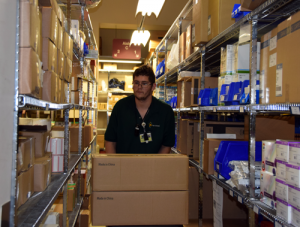 His kindness and respect have earned him several compliments, including one from the hospital's patient experience manager.
A student at Newark High School, Jace spends his time filling orders, stocking and delivering isolation boxes for six different departments and organizing and stocking shelves. He's been able to learn his way around the hospital and has learned about the different departments.
He would like to one day have a job working on cars or bicycles. But right now, he said he's having a great experience.
"I want to thank all the coaches for helping me get through this," he said. "It's helped me improve a lot."
For more information about Project SEARCH in Licking County, go to lcountydd.org/project-search/