LCBDD's 50th anniversary celebration was a memorable night for all who attended.
On Oct. 17 the Licking County Board of Developmental Disabilities hosted a 50th anniversary celebration that brought our entire community together.
Individuals supported by LCBDD as well as their family and friends, providers, neighbors and community leaders enjoyed walking through the halls of the E. S. Weiant Center during an open house.
Visitors were greeted by volunteers from the Licking County AKTION Club when they arrived and had the chance to get to know some of the community provider agencies and partners who work with LCBDD every day to support more than 1,600 people.
Historical photos and documents were on display throughout our building and there was a petting zoo and apple cider making available to families of all ages. Families could also enjoy a scavenger hunt and a "touch-a-bus" provided by the Licking County Transit Board.
The event concluded with a special presentation. Former LCBDD Superintendent Nancy Neely acted as master of ceremonies. After remarks from LCBDD Board President David Wigginton, Ohio Association of County Boards president Bridget Gargan, Director John Martin of the Ohio Department of Developmental Disabilities and proclamations presented from the City of Newark, the Ohio House of Representatives and the Governor's Office — LCBDD Superintendent Jason Umstot reviewed the agency's 50 years and shared a slideshow.
At the conclusion, everyone gathered outside the E.S. Weiant Center for a special announcement. Jason unveiled the plans for a renovation of the E.S. Weiant Center which will begin in 2018.
Built in 1966, the former school building has not had a major infrastructure upgrade in 50 years. The most recent upgrades were to HVAC systems in the 1990's.
This project has a $4.5 million construction budget and an estimated total cost of $6 million, which includes the construction/renovation costs, associated professionals fees, furnishings and technology upgrades. This project will not require LCBDD to seek additional levy funding.
It is our plan to consolidate our facilities, bringing all our staff under one roof, to better serve our community and focus more resources on the people we serve.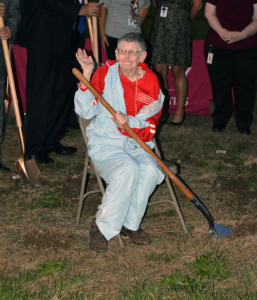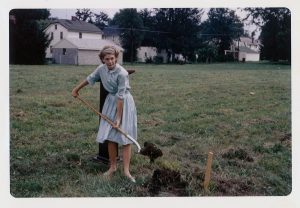 Sandra Marsh, who is supported by LCBDD and assisted with the first groundbreaking for the building in 1966, generously agreed to help break ground for the renovation.
Surrounded by board members and special guests, she used the original shovel she used more than 50 years ago to signify LCBDD's next step.
We are so thankful for all the community members who attended our event and look forward to sharing more news about LCBDD and our renovation in the coming months.