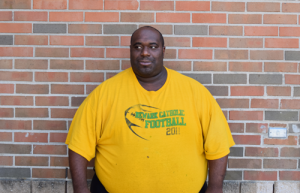 Nick Carter, of Newark, balances work with his love of DJ-ing.
When Nick Carter was young, he loved playing with his father's tape player.
As he got older, that interest evolved into a passion for playing music and entertaining others.
Although Nick, of Newark, works at Wendy's as a cook, he also plays music under the name DJ Nick.
Since he graduated from Newark High School in 2000, he's DJ-ed weddings, parties, family events and dances around Licking County.
"I like to see people get out there, dancing," he said.
Nick has always enjoyed music and began playing drums as a child.
He now plays in the worship band at Shiloh Missionary Baptist Church, where he participates in Bible study and the church's media ministry.
He works to promote his DJ business through word of mouth, giving credit to several friends who are local DJs for mentoring him and helping him secure music and equipment.
Although he has some regular clients, he's always on the look out for new opportunities and would like to begin playing larger venues.
When he works an event, Nick said he tries to play a variety of music — based on his customer's interest.
He tries to keep his prices reasonable, especially for non-profit organizations.
"I like to work with people, I like to cater to everyone," he said. "I just try to make people happy."
To contact DJ Nick, send an email to DJnicholascarter@gmail.com.