Stacey Wilkin has found success working at First United Methodist Church.
After working for close to a year, Stacey Wilkin was ready to make an important purchase.
She's very proud of her new iPhone and its brightly colored case. She enjoys playing games on it, texting family and friends and using emojis.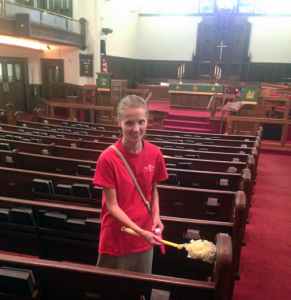 A graduate of Newark High School, Stacey started working at First United Methodist Church, in downtown Newark, last fall.
"I love it when I get paid," she said.
Stacey and her family first got connected with the Licking County Board of Developmental Disabilities through a teacher at Newark High School.
After graduating, Stacey, 24, began working in an enclave setting at THK, through LICCO Inc. When her position was eliminated, LCBDD connected her with Opportunities for Ohioans with Disabilities, which assisted her with her job search.
Stacey and her family chose LICCO Inc. as her provider and Stacey began working with a job coach, who helped her find her job at the church.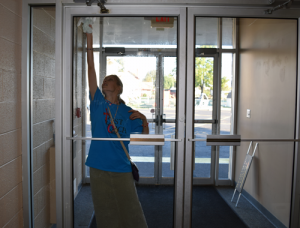 Working on Mondays, Tuesdays and Fridays, Stacey cleans the church, helps with landscaping and helps clean in the church's daycare.
One of her favorite things is seeing the kids while she's working.
"They say, 'Hi!' to me and I say, 'Hi!' to them," she said.
While she enjoys earning a paycheck, Stacey is very dedicated to putting money into her savings account, said her mother, Melinda Wilkin.
"She likes to save," she said.