Madison Blanc will compete in contesting at the Hartford Fair.
When Madison Blanc enters the show arena at the Hartford Independent Fair, with her horse LeStat, she'll be competing against riders who are four or five years older than she is.
But Madison, who goes by Madi, tends to embrace a challenge and always ends her ride smiling.
Next week will be Madi's fourth time competing at the fair. A soon-to-be freshman at Lakewood High School, she'll celebrate her 15th birthday at the fairgrounds with her family.
She enjoys competing in events, riding rides and spending time with fellow members of the Stable Mates 4-H Club.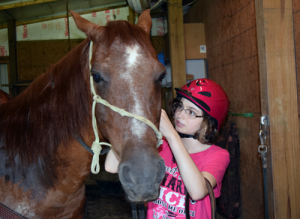 Madi began horseback riding five years ago as a form of therapy after she and her brother Gabriel were both diagnosed with autism.
"We decided to buy a horse and that turned into three," said her mother Tonia Blanc. "It's really helped."
Riding helped Madi learn to calm herself and gave her more structure.
Although LeStat can be stubborn and ornery, he and Madi make a good team.
Last year she brought home several ribbons in the contesting category, competing in barrels, pole bending and several other fast paced events.
Madi and her brother both practice their riding skills several times a week at their grandparents' farm in Thornville.
When she's not riding, Madi enjoys listening to music, drawing anime characters and creating stories about them.
This year, she entered some of her artwork at the fair.
She loves animals, and hopes to be a zookeeper one day.
She enjoys feeding and grooming LeStat. Together, with other members of their 4-H Club, they participate in the Pony Express, a therapeutic riding program organized by Licking/Knox Goodwill Industries.
As the fair approaches, Madi knows that her family will be cheering her on, hoping she improves her times.
"But for Madi, it's not really about getting ribbons," Tonia said. "It's about doing her best."