More than 44 youth supported by LCBDD are experiencing jobs or career exploration this summer.
When Elijah Davis decided to take on a summer job, he had a plan for the money he would earn.
For four weeks, Elijah worked at the Hampton Inn in Heath, washing and folding sheets, sorting laundry and cleaning the hotel.
His paychecks will go toward a portion of his plane ticket when his church leaves on a mission trip to Honduras later this month.
Elijah, of Granville, is one of about 44 teens and young adults supported by the Licking County Board of Developmental Disabilities participating in work experiences and career exploration this summer through Opportunities for Ohioans with Disabilities.
The programs are designed to help youth think about employment, and the kind of jobs they might enjoy, long before they graduate from high school, said Holly Shellogg, director of Employment Supports at LCBDD.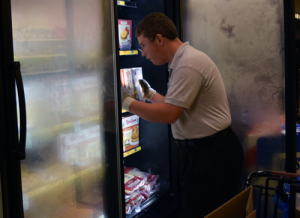 Research shows if young people participate in work experiences or career exploration before graduating from high school, they have a greater chance of obtaining a competitive job or enrolling in post-secondary education or vocational training, Holly said.
During the school year, LCBDD employment support specialists worked to connect teens who were interested in a summer experience with Opportunities for Ohioans with Disabilities. Counselors from the agency provided their families with the option to choose a provider and a job site to explore.
Younger students had the opportunity to participate in career exploration classes provided by New Hope Industries and Greenleaf Job Training Services. Held at the LCBDD administration building, the classes focused on soft skills but students were also able to visit several employment sites.
Older youth were able to participate in paid work experiences, provided by Greenleaf, LICCO Inc., New Hope Industries, Behavioral Healthcare Partners of Central Ohio and Licking/Knox Goodwill Industries.
After several weeks, the students have the opportunity to reflect on their experiences and identify their strengths and skills to continue to work on, Shellogg said.
For Joey Hile, who will be entering his junior year at Newark High School, working at Giant Eagle in Heath helped him realize that he might enjoy working at a grocery store.
Although it was sometimes challenging to work in the cold frozen foods section, Joey said he learned about the importance of completing all his responsibilities. He also really enjoyed learning how to vacuum the store's entry way.
Evan Morris of Newark and Adrian Ashbrook, of Johnstown, were both excited when they found out they would be working at Rural King in Heath.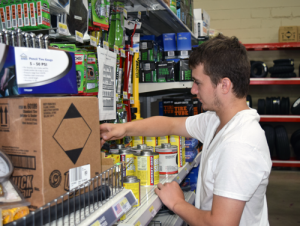 Evan, who just adopted a puppy, was excited to help out in the pet section, and Adrian was looking forward to helping with the hunting section.
The teens have also been helping move pallets, organize the shelves, get carts and clean the parking lot.
Evan said he's learned how to match product numbers and bar codes, which he's hoping will help him get a part time job during the school year.
Adrian said he'd like to get a job at Home Depot and is hoping working at Rural King will be a good first step.
Evan said he was thrilled to get his first paycheck. It covered his puppy Razor's adoption fee and he's been able to buy a collar and toys for him.
Adrian said he's going to put his paychecks toward saving for his drivers license and a truck.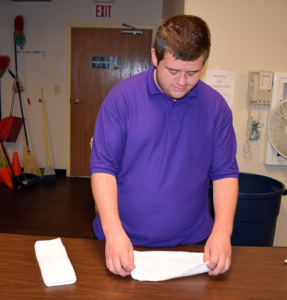 For Eli and his co-worker Scott McDaniel, a senior at Northridge High School, working at the Hampton Inn was about much more than just cleaning and doing laundry, said Kristin Burton, a school consultant at Behavioral Healthcare Partners.
"It's giving them the opportunity to learn the expectations of a work place and why it's important to follow an employer's standards. It's showing them the expectations that they will find in a long-term job," she said. "It's also teaching them how to work with other people."
Lukas Ingram and Greg Stumbo, both students at Licking Heights High School, participated in a work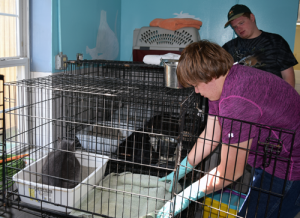 experience at Broadway Kennels Boarding in Pataskala.
They both enjoyed caring for the animals, changing cat litter and bedding, and filling water bowls. But they also had the chance to step up and take on maintenance tasks, such as fixing fences, clearing gutters and repairing broken equipment.
"They are learning critical thinking, problem solving and persistence," said Rachel Wyatt, a job coach for Behavioral Healthcare Partners. "They showed they could really use the knowledge they've gained and did a great job."
For more information about the supports that LCBDD provides to transition youth, go to lcountydd.org/what-is-employment-supports.